adidas Is Taking 3D Printing To The Next Level

When it comes to sneakers featuring cutting-edge "technology" it's almost always a roller coaster ride when it comes to popularity. Thinking back to tech like Nike Air cushioning, the Reebok Pump system, or more recently, adidas' BOOST cushioning, there are times when the tech behind a shoe's design absolutely rocks the world of footwear and becomes popular with mainstream consumers seemingly instantly. On the other foot, there are technologies that sometimes take years to become a reality and even longer to become reasonably priced enough to result in any measurable number of sales. Some examples of the latter would be auto-lacing sneakers like the Nike MAG and Adapt line, or even computer-equipped shoes like the PUMA RS-Computer or the adidas MicroPacer, or more recently, the adidas 1, or the number of Nike+ designs that were "smart" enough to track your movements and send that info to an app or Nike FuelBand.
One of the most anticipated technologies that continues to move closer and closer to mainstream acceptance is 3D printing. At the forefront of pushing this technology forward is the adidas 4D line, which has seen more and more colorways and silhouettes over the last 4 years. Their latest creation from 3D printing technology is the new adidas 4D Fusio (yes, that's a play on "fusion").
The 4D Fusio adds to new developments in the 3D printed world. The most obvious at first glance is the multi-color midsole. In most cases prior, 3D printing has remained tonal in its abilities (at least in footwear). Meaning, we only get solid color options for the midsole design. The second and probably more exciting part of the 4D Fusio is the more integrated design of the 3D printed elements. On previous versions of the 3D printed shoes from adidas the design was pretty obviously created in pieces, 3D printed, and not. The 4D Fusio starts to blur that line and open up the opportunities for the 3D printed elements to be more seamlessly integrated.
Despite the curious choice by adidas to call their shoes featuring 3D printed parts "4D," the new Fusio adds another layer of intrigue to this new technology. You can grab a pair for $250 on January 20th from select adidas retailers.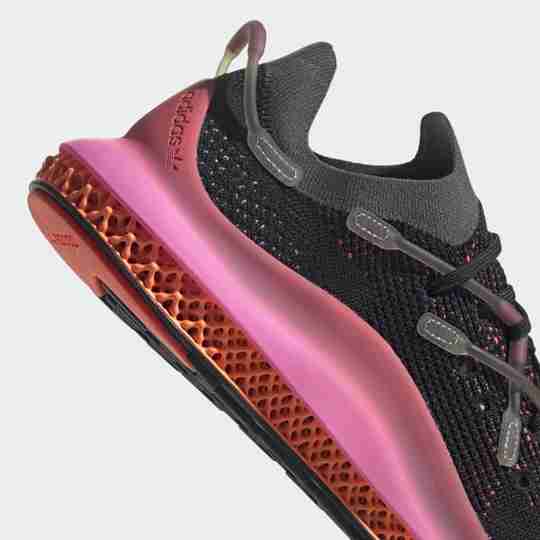 Money Back Guarantee
If Sneaker Throne isn't for you, we'll gladly refund your product within 30 days of purchase, minus return shipping.
Fast Shipping
Orders typically ship within 2 business days. We use FedEx & UPS Home Delivery so you can track your order to the door.
Safe & Secure
We love our customers and are here to answer any questions or concerns you may have. All transactions obviously safe & secure.