20 Years Later: Allen Iverson's Biggest NBA Moment Revisited

Shaq and Kobe were rolling through NBA teams like they were AAU teams, averaging over 60 points per game between the two of them. The Lakers hadn't lost in over a month, sweeping their way to the NBA Finals to face the Allen Iverson-led Philadelphia 76ers. That said, in Game 1, Iverson showed why he was awarded the NBA's Most Valuable Player. Now, twenty years after Allen Iverson and the Philadelphia 76ers shocked the basketball world in Game 1 of the 2001 NBA Finals, Reebok is re-releasing the Reebok Answer IV "Stepover" colorway.
It might not be as important what a player does wearing a shoe as it used to be, but the performance from Allen Iverson took his signature line from Reebok up a notch. Iverson dropped 30 points in the first half in a then-player exclusive colorway of the Reebok Answer IV. However, it would be the overtime performance, and more specifically, the moment he knocked down a jumper from the corner, before stepping over Tyronn Lue and into the memories of basketball fans worldwide. Iverson would finish with 48 points, an NBA record for most points in an NBA Finals debut.
The Reebok Answer IV "Stepover" remained as an Allen Iverson exclusive until it was finally retroed for the first time in 2017 in limited quantities. Tonight, Reebok will release the Answer IV "Stepover" again in limited quantities and it goes without saying that a sneaker from such an iconic moment is as Throne-Worthy as it gets.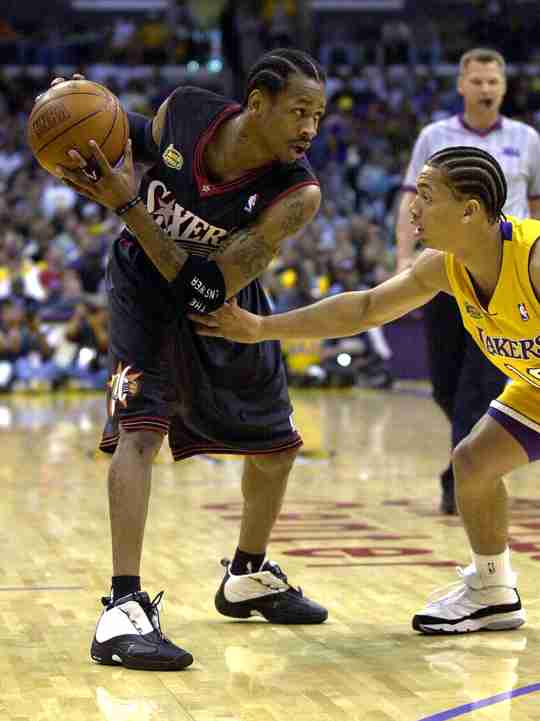 CHECK OUT SOME OF OUR MOST POPULAR STORIES
Money Back Guarantee
If Sneaker Throne isn't for you, we'll gladly refund your product within 30 days of purchase, minus return shipping.
Fast Shipping
Orders typically ship within 2 business days. We use FedEx & UPS Home Delivery so you can track your order to the door.
Safe & Secure
We love our customers and are here to answer any questions or concerns you may have. All transactions obviously safe & secure.