The Dior x Air Jordan 1 At The Presidential Inauguration 
The shoe that divided the sneaker community in 2020 made its 2021 debut at the presidential inauguration for President Joe Biden and Vice President Kamala Harris. Harris' nephew-in-law, Nikolas Ajagu was spotted wearing the Dior x Jordan 1 at the festivities in Washington D.C. on January 20, 2021, but it was how the internet blew up about the shoes that made them the trending topic on Twitter, and subsequently the topic of major news outlets around the globe.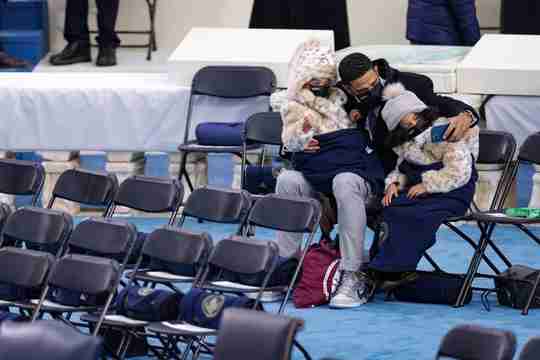 Twitter began buzzing about the Dior Jordan 1s just before 11:30 AM ET as they first appeared behind Senator Amy Klobuchar while she spoke from the podium at the 2021 presidential inauguration. Not long after that, the images you see here, from Getty Images photographers Brendan Smialowski and Alex Wong, starting popping up everywhere on the internet from all corners of the globe. There blog posts documenting the Twitter buzz, Instagram posts asking if they were the right choice, YouTube videos speculating who was wearing them, and major news outlets like the NY Daily News, Yahoo, Popsugar, and Marca, all well beyond the standard reactionary posts of the sneaker blogs, that are still continuing to pop up as I type this. 
Kamala Harris' love for the Converse Chuck Taylor is a huge talking point for the fashion world, and one that I spoke to The Guardian about back in September. While I can't seem to wrap my head around the fact that some people still think wearing sneakers is somehow disrespectful, I do think that having politicians of any party or position is a simple and effective way to normalize politicians.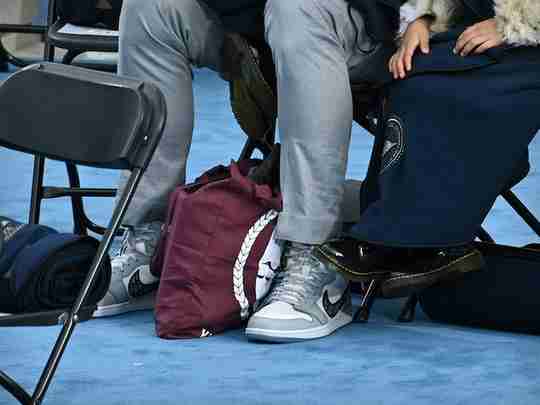 However, seeing Nikolas Ajagu in the Dior 1s takes things a couple steps further. Not only are the Diors probably made of better quality and carry a heftier price tag than nearly every other shoe being worn in Washington on Inauguration Day, but they also help make wearing sneakers to formal events more normal. It's hard to argue a pair of sneakers is somehow out of line when they're a pair like the Dior Air Jordan 1.
Money Back Guarantee
If Sneaker Throne isn't for you, we'll gladly refund your product within 30 days of purchase, minus return shipping.
Fast Shipping
Orders typically ship within 2 business days. We use FedEx & UPS Home Delivery so you can track your order to the door.
Safe & Secure
We love our customers and are here to answer any questions or concerns you may have. All transactions obviously safe & secure.