The Thrill of Victory and The Agony of Defeat

A text message came in at 8:19 am PT this morning suggesting to keep an eye on the SNKRS app at 9 am PT today. A few moments later, the Sneaker History Discord notifications began to pop off. For better or worse, the early notifications had served their purpose. Not long after, the hopes of finally landing a pair of "Grinch" Kobe 6s were in full force despite the fact that recent experience using the SNKRS app would suggest not getting too worked up over another release. By the time the SNKRS app updated just after 9 am PT, there were dozens of comments and people were offering up their entries for others. 10 minutes later the draw was complete and dozens of disappointed posts filled the timeline.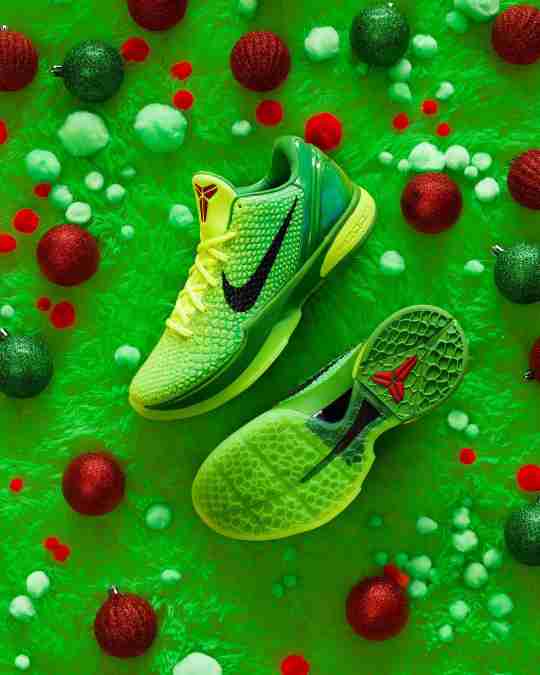 Since Kobe passed away, the demand for the Grinch colorway has quite possibly been the peak of SNKRS releases. The shoe is not just a grail for many sneakerheads. It's a moneymaker for resellers. It's a hooper's dream that countless NBA players have already worn. Not to mention the celebrities and influencers that have pushed its clout even further. The original release had so much demand that even Kobe's wife Vanessa Bryant tried to work with Nike to create more pairs for fans. While it might be an anomaly, the Grinch restock today plays into something much bigger.
Sneakers have become a game that we sign up to play with each and every release. Like most releases as of late, the percentage of people who hit on today's release was minuscule compared to those that missed out. Not every release has the combination of nostalgia and hype that drive people to covet it like the Kobe Grinches but more and more are being pushed into that same place of desire and chance that keeps people coming back. Despite the odds being heavily against us all, we'll all be back for the next chance, whether it's for tomorrow's release or another pair that is planned further in the future.
With the excitement around sneakers at an all-time high, more people are signing up to play every single day (and that's not even acknowledging the resellers and bots). On one hand, it's a beautiful thing to see more sneakers being released every week than ever before. It's opened up opportunities for countless brands to create incredible products and telling amazing stories. On the other, it's taking away from the people who "were there back in the day" when shoes like the Kobe Grinch were first released but that's a debate for another day.
Like the lottery, the hit of endorphins we get simply by playing the game will eventually wear off. Eventually, the frustration of not hitting will be enough for some to give up. The effort that people will be willing to put in for a chance to win will become less and less. The interest will wander to other models, different brands, or perhaps to something other than sneakers. 
For the true enthusiasts, however, the ebb and flow of other people's interests is nothing new. For them us, it's not about the now. It's about that moment of unboxing the Kobe Grinches from the next restock, or the one after, or the one after that, when we finally get to slide that deadstock pair onto the shelf of our Sneaker Throne, step back, turn on the soft glow of the accent lights and breathe in the feeling of victory.
CHECK OUT SOME OF OUR MOST POPULAR STORIES
Money Back Guarantee
If Sneaker Throne isn't for you, we'll gladly refund your product within 30 days of purchase, minus return shipping.
Fast Shipping
Orders typically ship within 2 business days. We use FedEx & UPS Home Delivery so you can track your order to the door.
Safe & Secure
We love our customers and are here to answer any questions or concerns you may have. All transactions obviously safe & secure.