How Pharrell Williams Mastered Sneaker Releases Without The Hype
In a world where most people are trying to keep up with Kardashians, the sneaker game has become the same rinse and repeat process for creatives and collabs that every episode of the world's first-reality-family goes through. The overdramatic quips of every conversation and blown-out-of-proportion life struggles that are far from a reality that anyone experiences are formulaic gold for viewers and make it easy for producers to replicate the success of each episode. With footwear, the quips and challenges have been replaced with overly-hyped releases and the perception of limited production numbers. Whether you're talking about the Keeping Up With The Kardashians show or sneaker releases, it only takes a slight controlling of the narrative and inflating the importance to find commercial success. However, one of the most popular collaborators in the sneaker world right now doesn't even have to play into those norms. 
Pharrell Williams has built countless brands and his contributions to the footwear game rival any other creative's success. Yet somehow, Pharrell doesn't stick to the status quo when it comes to the shoes he creates. While Virgil Abloh is recreating sneakerhead-favorite Air Jordan models with his famed design aesthetic, Pharrell is adding his name to a broader spectrum of silhouettes ranging from the old school adidas Superstar to his modern Human Race NMD to modern hiking boots from the Terrex line to remakes of the Tokio trainer. Not to mention, the array of colors ranges from all black to bright and bold. So while many designers have turned toward muted tonal color palettes like those made famous by the YEEZY and Fear of God labels, Pharrell seems to have gone against the grain in a way that makes his creations appealing to the masses.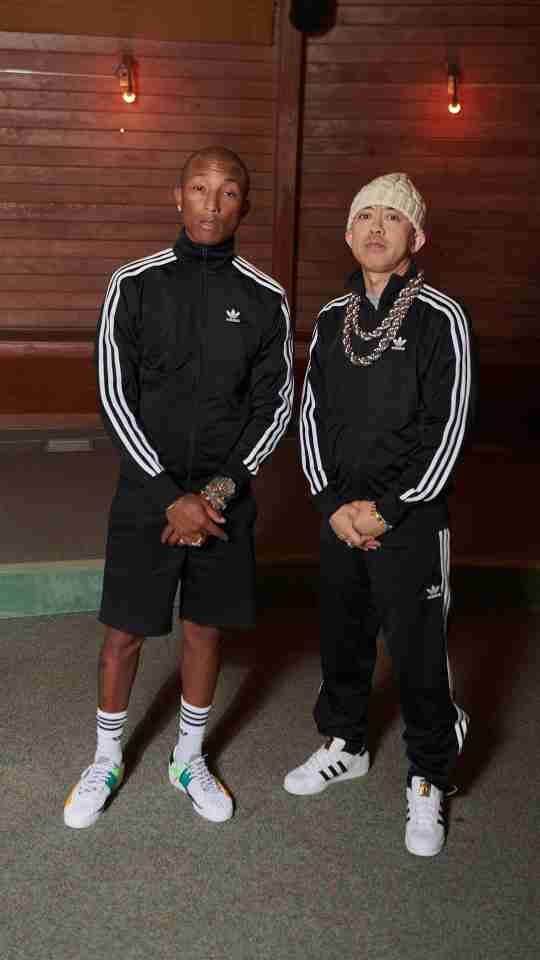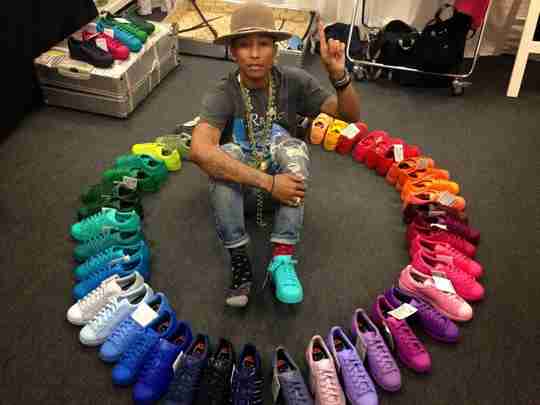 There's a reason why brands can't sell most of the colorful styles they make. We as collective humanity are boring. We tend to gravitate towards a handful of traditional colorways, especially during the winter. Mostly black, mostly white, some combination of the two, and a little hint of color, which for most is the deciding factor, is the default for mainstream consumers. Sneaker enthusiasts obviously don't fall into this category for every purchase, but they do still follow these trends pretty often. Take a look at your collection and you'll likely find a handful of shoes that fall out of this generalization but most stick to simple color palettes. That's not a bad thing, it's just a thing. What makes Pharrell's work with adidas impressive is his ability to consistently appeal to everyone under the sun.

While Pharrell's musical vibe was "Happy" for Despicable Me 2 in 2013, he was working on his first major releases with adidas for 2014 and 2015, which included a rainbow of colorways of the iconic Superstar that released at various places around the world. The bright and colorful approach set the tone for what was to come from his partnership with The Three Stripes. 2016 brought his first new silhouette, the adidas Human Race NMD, which followed the bright color pallette approach before eventually diversifying to more "safe for the masses" color options. While some of the releases have been limited in nature, very few have held their value on the secondary market the way other hyped releases over the same time period have.

Pharrell's ability to appeal to every person on the planet with seemingly no drama, unnecessary hype, and zero falsely inflated value, is almost the exact opposite of what we see from sneaker releases like the Trophy Room Air Jordan 1, Off-White Jordans, and limited "act fast" releases that litter the SNKRS app on any given release. In addition, Pharrell further cements his mass appeal by creating opportunities for everyone, as opposed to just the "cool kids" like the list of creators that Kanye West would call his apprentices. A perfect example of this came in 2019 when he and adidas announced the Now Is Her Time collection, a campaign aimed at "female empowerment across the world through the power of representation and bold voices."

With a broader vision than the sneaker world, inspiration to empower others, and a willingness to create with and for all types of people, Pharrell has removed his creative outputs from the dependency of the hype cycle. A quick search on the resale platforms confirms that you can grab many of his sneakers for relatively close to their original price. His latest release is the most mainstream-appealing so far with four new releases, his famed Hu NMD, an iconic Terrex Trailmaker hiking shoe, a modern boot in the form of the BOOST-equipped Free Hiker Zip, and the bold BYW 0-to-60 silhouette, all of which come in all black. Despite the "for the masses" options, the entire collection will still "sell out" without Pharrell himself having to do the same.

Money Back Guarantee
If Sneaker Throne isn't for you, we'll gladly refund your product within 30 days of purchase, minus return shipping.
Fast Shipping
Orders typically ship within 2 business days. We use FedEx & UPS Home Delivery so you can track your order to the door.
Safe & Secure
We love our customers and are here to answer any questions or concerns you may have. All transactions obviously safe & secure.