Jordan Takes The Air Jordan 6 Back To Their Roots

As you probably know, Michael Jordan's impact on sneakerheads is still to this day a huge part of what makes new releases successful. Even though MJ hasn't played an official game of basketball for well over a decade, the pairs he personally wore and the colorways that have stories tied directly to him seem to always have sneaker enthusiasts salivating. Whether that is traditional colors from the Chicago Bulls championship era, from the end of his career as a Washington Wizard, or even going further back to his college years as young star for the North Carolina Tar Heels, MJ's connection continues to be irreplaceable in the storytelling efforts of Jordan Brand.
Jordan's latest nostalgic storyline takes them back to his UNC Tar Heels days with a new take on the Air Jordan 6.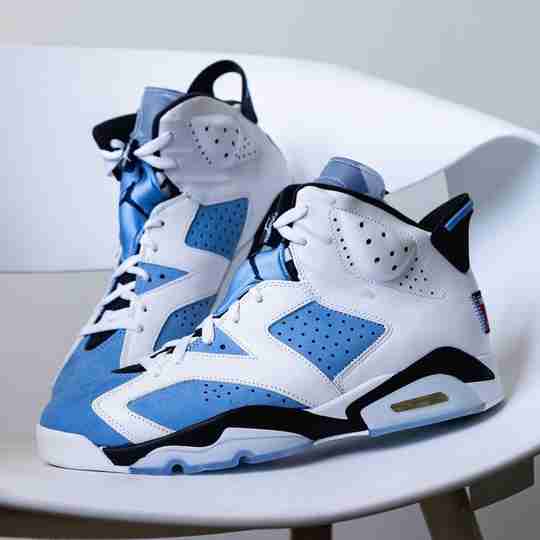 Inspired by the '90s "Team Sports" ad campaign that Nike ran in partnership with Champs Sports and Foot Locker, the "UNC" Air Jordan 6 looks as if it was pulled directly from the Tar Heels equipment catalog. If you're familiar with the Air Jordan 6 "Carmine" colorway than this AJ6 color blocking should look quite familiar. Nowadays, the contrasting colors of the upper and the overlay patterns on the Jordan 6 are commonplace but when MJ was wearing them for that first championship in 1991, only the Carmine colorway featured the standout look. The AJ6 UNC also features a reimagined version of the famous "team sports" label that has updated for Jordan Brand's use.
Thanks to RepGod888 for the photos and House of Heat for the info, we can look for these North Carolina Tar Heels-inspired Air Jordan 6s to release on March 5th, just  in time for March Madness. 
CHECK OUT SOME OF OUR MOST POPULAR STORIES
Money Back Guarantee
If Sneaker Throne isn't for you, we'll gladly refund your product within 30 days of purchase, minus return shipping.
Fast Shipping
Orders typically ship within 2 business days. We use FedEx & UPS Home Delivery so you can track your order to the door.
Safe & Secure
We love our customers and are here to answer any questions or concerns you may have. All transactions obviously safe & secure.