Kyrie Irving Thinks His Own Next Signature Sneaker Is Trash

Kyrie Irving recently called his upcoming shoe "trash" in an Instagram comment, but is that what the (former?) flat-earther really means? Kyrie has a well-documented history of stirring the pot, sometimes it even seems his intentions are as simple as that. While there are very few people that will truly understand what Irving's comment was actually intended to do, the Brooklyn Nets point guard and future Hall-of-Famer's words might unintentionally be more harmful to himself in the long run. 
Before we get to Kyrie's harsh words about the Nike Kyrie 8, it's important to understand how Kyrie Irving has "misspoke" in the past. The most talked-about Kyrie Irving situation came when Kyrie suggested that the earth is flat just days before the 2017 NBA All-Star Game. As a member of the Cleveland Cavaliers, Kyrie joined his then-teammates, Richard Jefferson and Channing Frye on their podcast. After asking his teammates if they thought the world was round (both said yes btw), Kyrie stated "This is not even a conspiracy theory. The Earth is flat." He would later say he was trying to start a conversation about people needing to do their own research, and how social media can twist words, among other things. He also said that at the time, he was huge into conspiracy theories. Over a year later, however, Kyrie was still apologizing for his statements.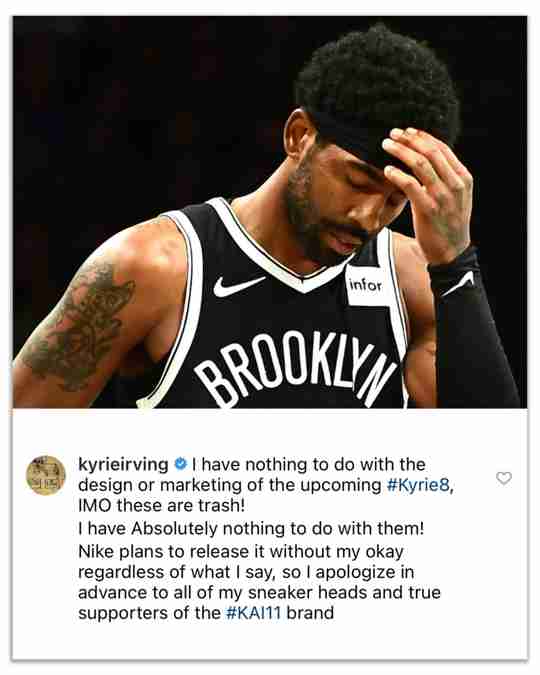 In his latest controversial social media actions, Kyrie Irving left a now-deleted comment on a post made by SneakerHighway23 that read:
"I have nothing to do with the design or marketing of the upcoming Kyrie 8...These are trash! I have absolutely nothing to do with them! Nike plans to release it without my okay, regardless of what I say, so I apologize in advance..."
While Kyrie might not like the Nike Kyrie 8, it's impossible to believe that he had no input on the shoe. According to Matt Sullivan, who has spent countless hours with the Brooklyn Nets and recently wrote a book about it, Kyrie has been very particular about having a say in the ideation and design of his signature sneakers, especially since the passing of Kobe Bryant. It's also been reported that Kyrie and Nike designer, Benjamin Nethongkome have a pretty solid relationship, which leads to another possibility. With Irving being such a student of Kobe Bryant, maybe Kyrie and his relationship with Nike are feeling the effects of Nike's split with Kobe Bryant's estate.

We'll have to wait and see how the Nike Kyrie 8 and its success will play out, but as the middle piece to the latest trilogy of designs, work on the next generation Kyrie 9 is likely already in the planning and development stages. So, there will be no stopping the Kyrie 8 from coming to market, aside from some sort of legal battle. The comments do perhaps bring up a topic for another day, however. Early photos, and specifically, bad early photos of sneakers only hurt the public's perception of a sneaker. In this case, it seems that maybe Kyrie Irving is just another person put off by someone seeking likes and comments by posting photos of a sneaker that is under embargo. Shameless plug time, it's important that you put your best foot forward and display your kicks properly to get the most joy out of them. Sneakers that have been buried in mud, either literally or with words and poor photos, are never going to be as Throne-worthy as they could be.

CHECK OUT SOME OF OUR MOST POPULAR STORIES
Money Back Guarantee
If Sneaker Throne isn't for you, we'll gladly refund your product within 30 days of purchase, minus return shipping.
Fast Shipping
Orders typically ship within 2 business days. We use FedEx & UPS Home Delivery so you can track your order to the door.
Safe & Secure
We love our customers and are here to answer any questions or concerns you may have. All transactions obviously safe & secure.