Nike Is Adding Embroidery To The Nike Dunk

There are never a shortage of Nike Dunks available for fans of Nike's iconic basketball-turned-skate-turned-hype sneakers. For this upcoming Los Angeles-Lakers themed release, Nike has added a new form of branding to the heel of the Dunk. The "puff" embroidered logo on the heel not only stands out with some 3-dimensional depth, but it also uses details that are reminiscent of the old "showtime" Lakers logo.
The rest of this upcoming Dunk uses the purple and gold of the Lakers on top of a black upper. While these are a no-brainer if you're a Lakers fan, the uniqueness of the design is a Throne-Worthy tribute to any of the greats that have thrown on the Los Angeles colors, whether you're a Magic Johnson fan, honoring Kobe's legacy, or LeBron fan hoping for another ring for the king.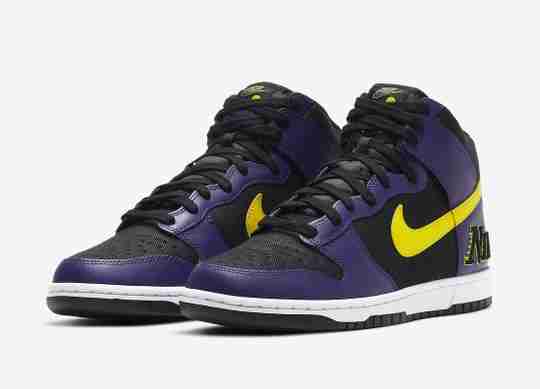 Money Back Guarantee
If Sneaker Throne isn't for you, we'll gladly refund your product within 30 days of purchase, minus return shipping.
Fast Shipping
Orders typically ship within 2 business days. We use FedEx & UPS Home Delivery so you can track your order to the door.
Safe & Secure
We love our customers and are here to answer any questions or concerns you may have. All transactions obviously safe & secure.