Remembering That Time Kobe Bryant Wore Allen Iverson's Reebok Question

There is no denying that Kobe Bryant is one of the greatest basketball players to ever play the game. Many would take it a step further and say that Kobe Bryant's sneaker legacy is nearly equal to his hoops legacy. They wouldn't be wrong at all. 
However for sneakerheads, the 2002-2003 NBA season when Kobe was in between his adidas contract and his Nike contract, is what truly took the Mamba's sneaker legacy to the next level.
Although Kobe wore iconic sneakers like the Air Jordan 11, Converse Weapon, Nike Air Force 1, and more, today we're focusing on the Reebok Question that will release as a retro for the very first time on December 24th.
On December 8th, 2002, the Los Angeles Lakers faced off with Karl Malone and the Utah Jazz. Keep in mind, this was the early stages of the Shaq and Kobe feud that would eventually see the dynamic duo part ways. Even though the two superstars had led the Lakers to 3 consecutive titles, the egos were threatening to put an end to LA's run. The tension continued to rise as the Lakers started the season with a 9-13 record, not exactly what you'd expect from the defending world champs.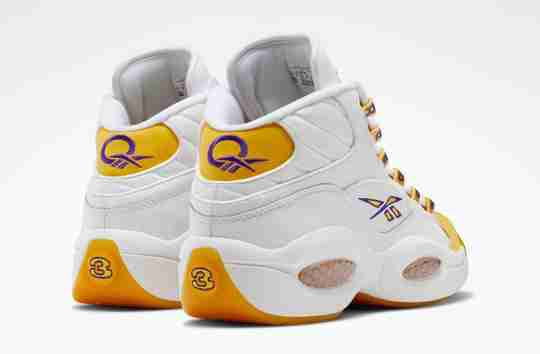 Kobe was in the midst of his sneaker free agency and essentially wore a different shoe for nearly ever game of the season. For this particular game, Kobe laced up a yellow toe version of Allen Iverson's Reebok Question made specifically for him. It was accented with purple to match the legendary Lakers jerseys and was one of Reebok's many attempts to lure Kobe to signing an endorsement deal with Reebok.
Bryant did have one of his best games of the early season with 25 points, 14 assists (and you thought Mamba never passed?), 5 steals, and 4 rebounds, but needless to say it didn't work out in Reebok's favor. However, 18 years later Reebok is bringing back the yellow toe Question for a new generation of sneakerheads to carry on Kobe Bryant's sneaker legacy.
Money Back Guarantee
If Sneaker Throne isn't for you, we'll gladly refund your product within 30 days of purchase, minus return shipping.
Fast Shipping
Orders typically ship within 2 business days. We use FedEx & UPS Home Delivery so you can track your order to the door.
Safe & Secure
We love our customers and are here to answer any questions or concerns you may have. All transactions obviously safe & secure.