The Perfect Chair For Your Sneaker Room

READYMADE has created the perfect chair for sneaker enthusiasts that are loyal to Nike with this Swoosh chair. The Japanese brand that was founded by Yuta Hosokawa back in 2013 has always created product based on the concept of recycling and remaking vintage pieces. Over the past few years their high-quality jackets and bags have become sought after around the globe and seen on a countless number of celebrities ranging from Ludacris to Post Malone and beyond. In addition to the sustainability aspects of the brand, Hosokawa's anti-war and anti-mass production messaging has been consistent through the years as the READYMADE team continues to turn vintage military aesthetics into fashion statement pieces.
The Nike Swoosh chair by READYMADE will likely never see an actual release but it falls directly in line with the brand's belief of repurposing to create new. While we likely won't actually see this available for purchase any time soon, after successful collaborations with Just Don, Timberland, and others, READYMADE is preparing to drop two Nike Blazer collabs later this month.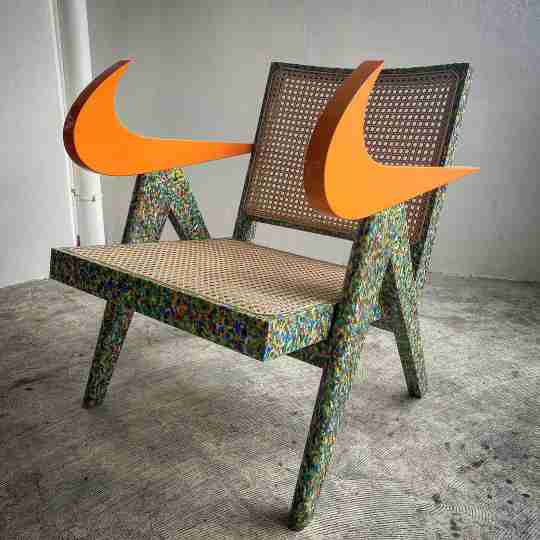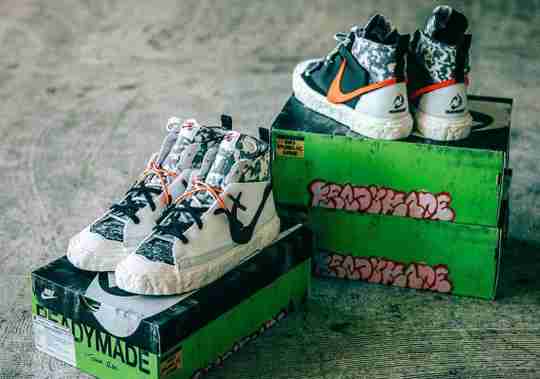 The READYMADE x Nike Blazer features a patchwork aesthetic that is perfect for the current trend of reworking iconic sneakers in that "old-but-actually-new" vibe. With an exaggerated shape to the traditional Nike Swoosh, elements that appear to utilize Nike's Regrind recycled materials program, and a lacing system that gives off Sacai vibes, this pair of Blazers is likely going to be a challenge to acquire.
If you are able to cop on February 27th, both of these colorways are definitely Throne-Worthy to say the least. 
Money Back Guarantee
If Sneaker Throne isn't for you, we'll gladly refund your product within 30 days of purchase, minus return shipping.
Fast Shipping
Orders typically ship within 2 business days. We use FedEx & UPS Home Delivery so you can track your order to the door.
Safe & Secure
We love our customers and are here to answer any questions or concerns you may have. All transactions obviously safe & secure.