This Customizer Made Better Jordans For The Masters Than Jordan Brand Did

Whether you are lifelong fan, new to golf, or the bug is just starting to bite, The Masters is one of the most important sporting events in the world. Over 5.5 million people watch the annual event and in recent years, sneakers have become an important part of the conversation. Nike and Jordan specifically have been releasing classic sneakers reinvented as golf spikes almost every month for the past couple of years. Of course, any sneakerhead knows that being like Mike, also means being able to take your talents to the fairways. As the gap between sneaker enthusiasts and golfer closes, athletes are getting their own exclusive sneakers for this year's upcoming The Masters. Bubba Watson recently shared his Air Jordan 4 on Instagram but it seems the team at Jordan has been outdone by sneaker customizer and restoration guru, Marrio Restores.
With The Masters getting underway today in Augusta, Georgia, I reached out to Marrio to find out this pair came to be.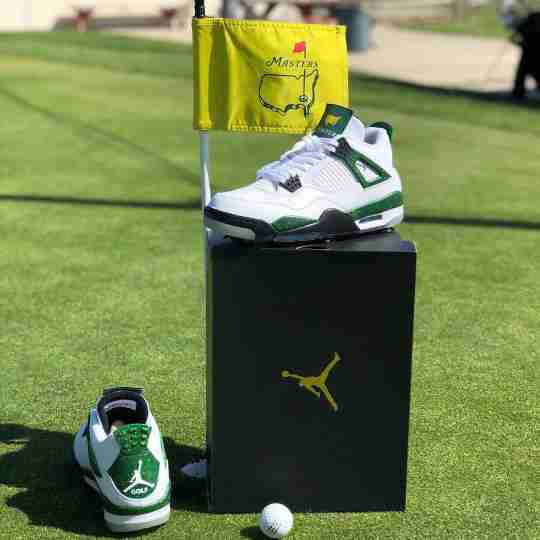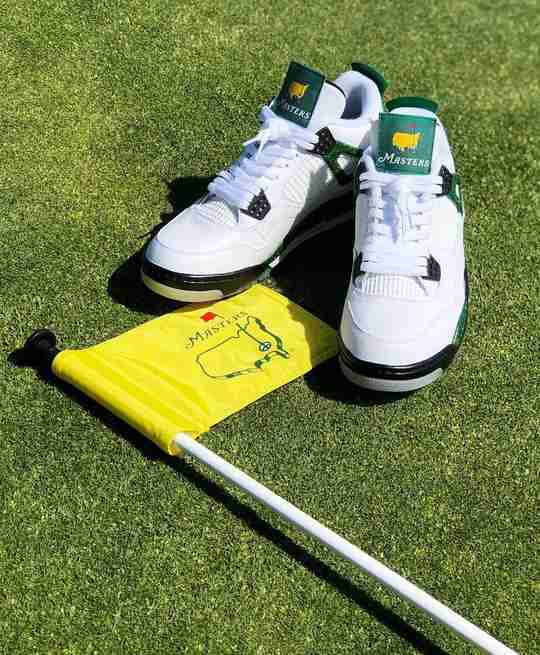 How did you come up with the concept for The Masters Air Jordan 4?
At first my customer didn't know what type of custom he wanted, so I gave him 10 ideas to choose from and he wanted to do a The Masters themed custom. Some customers want to be in full control of their custom but, luckily he had full trust in my vision and trusted me with whatever ideas I came up with.
I just needed to know who his two favorite golfers were past and present, once he said Tiger Woods and Jack Nicklaus I already knew what to do. I wanted to represent the masters as much as possible and when I think of the masters, I think of simplistically elegant. You know what you're going to get when you go to the masters or you watch the masters on TV, it's straight forward plain and simple pure golf but, it's played on one of the greatest golf courses in the world. It's very uniform, very clean. It is one of those pieces of American pop culture now, you can say Augusta and people will automatically think of the Masters. So I knew there was no need for me to cover up the beauty of an Air Jordan 4 with paint and decals.Even though I did add some special accessories to it with the custom tongue patches, tee holder and custom magnetic ball markers, I felt the final outcome was damn near GR or PE worthy. I saw a couple of comments saying that they were better than the PE pair Bubba Watson got. 
How long does it take to create a pair like this?

This pair took me 6 weeks from start to complete.
How long have you been doing custom sneakers and restorations?
I've been doing restores and custom since 2017 but, I spent 2016 researching every thing I could on restorations before I started in anything. I wanted to know the ins and outs the every process there is do deal with restorations or customs. Honestly, my journey into this happened on July 4th, 2015, when I thought it would be a good idea to un DS a pair of 2004 Olympic Air Jordan VII's. It was very hot that day and maybe an hour into wearing them, they separated. When I went home that night, I found a guy at a local sneaker boutique that did re-glues but, he said it would cost me $100 to re-glue my shoes because of the size of my shoes (I wear a size 16-17). My wife told me to figure out how to do it and do it yourself, which I did and the rest is history.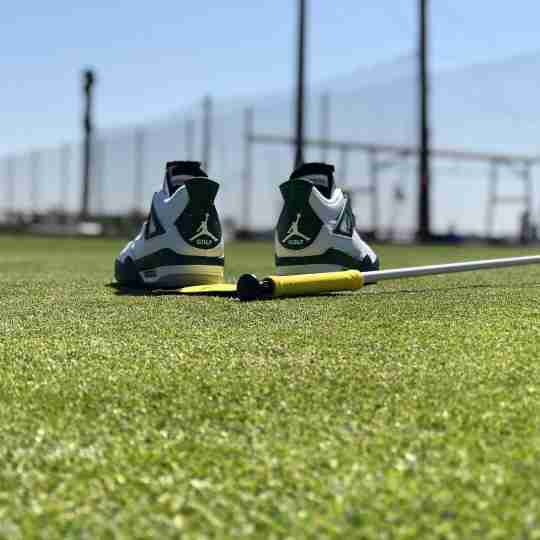 Is this the first golf custom that you've done?
Yes, it was and it will definitely not be the last.
Will we see more golf-inspired customs from you in the future?
Yes, I will definitely be doing more golf inspired customs in the future. This pair has got some good traction and I'm currently in talks with a golfer to do a pair for them.
You can follow Marrio Restores on Instagram to find more of his work.
Money Back Guarantee
If Sneaker Throne isn't for you, we'll gladly refund your product within 30 days of purchase, minus return shipping.
Fast Shipping
Orders typically ship within 2 business days. We use FedEx & UPS Home Delivery so you can track your order to the door.
Safe & Secure
We love our customers and are here to answer any questions or concerns you may have. All transactions obviously safe & secure.