Throne-Worthy Kicks: Trophy Room x Air Jordan 1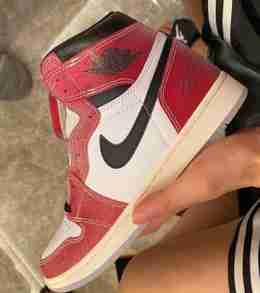 The perks of being the son of Michael Jordan appear to include a new collaboration. This vintage-inspired Air Jordan 1 release was recently previewed by ZSneakerHeadz and is rumored to release in early 2021. 
With the increased demand for vintage pieces and the dwindling supply of original Air Jordan 1s, the price of OG Jordans has been skyrocketing in recent years. MJ's eldest son Marcus Jordan, who owns Trophy Room, clearly sees the opportunity to seize the moment with this impressive remake of the iconic sneaker that his father wore back in 1985. 
This Air Jordan 1 starts with the basics of a "Chicago" AJ1, red, white, and black color placements that have become as famous as their namesake. Taking things to the next level, Marcus chose to give the upper a vintage finish, which continues with an aged-to-perfection midsole. Michael Jordan's autograph has been emblazoned onto the heel as if it's straight from a game-worn sneaker you'd find on a Sotheby's auction.
A modern twist comes in the form of a semi-translucent midsole that features blue and red stars beneath, undoubtedly a nod to MJ's appearance in the 1985 NBA All-Star Game, the first of his 14 appearances.
On the inside ankle, "Rumor has it..." has been embroidered. We'll let you do your own speculating as to what that implies but here is some fuel for the fire.
These are Throne-Worthy Kicks to say the least.
Look for these in February of 2021 with a rumored 12,000 pairs available.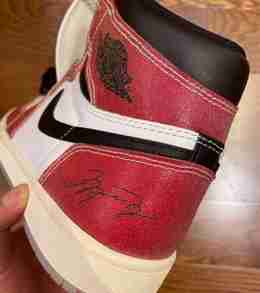 CHECK OUT OUR MOST POPULAR CONTENT
Money Back Guarantee
If Sneaker Throne isn't for you, we'll gladly refund your product within 30 days of purchase, minus return shipping.
Fast Shipping
Orders typically ship within 2 business days. We use FedEx & UPS Home Delivery so you can track your order to the door.
Safe & Secure
We love our customers and are here to answer any questions or concerns you may have. All transactions obviously safe & secure.