Where Did All The NBA All-Star Sneakers Go?

As if we needed a reminder that we're still dealing with a pandemic, the most talked about weekend in all of sneakers is officially here a month late and missing dozens of sneaker releases. NBA All-Star Weekend is one of the most exciting times of the year for sneaker enthusiasts because the energy of the weekend's events is typically surrounded by dozens of brands releasing limited edition sneakers and countless events to market the shoes. 2021 is nothing like that so far.
The original plan for the 2021 NBA All-Star Game was for it to be played in Indianapolis. Under normal circumstances, the game happens in early-to-mid February but with a rushed season and a league still trying to get anywhere near what "normal" once was in terms of safety, fan attendance, and scheduling, this year's "weekend" is now crammed into one day in Atlanta.
With such an unusual schedule, sneaker brands have been slow to announce releases in conjunction with this year's festivities. While the Trophy Room AJ1 was intended an All-Star release, it actually came out independent of the NBA's schedule. So far, the only releases we've seen that are ready to go for NBA All-Star come from Nike Basketball.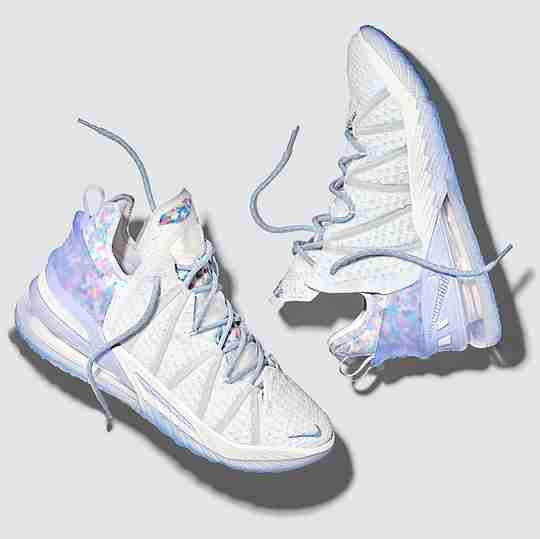 Nike has reworked the signature sneakers of their star athletes, LeBron James, Kevin Durant, Kyrie Irving, Giannis Antetokounmpo and Paul George, with the theme, "Play For The Future." The theme aligns with Nike's continued efforts to reduce the company's carbon footprint and move to becoming a hero waste company. Each colorway has a personal tie to the athlete.
LeBron James' LeBron 18 represents the clean air he hopes to be breathing in the future.

Kevin Durant's KD 13 represents the clean electric energy of the future.

Kyrie Irving's Kyrie 7 uses colors that represent his plant-based diet.

Giannis Antetokounmpo represents the good fortune that is returned when you recycle. 

Paul George's PG 5 is representative of the rivers and lakes that need to be preserved.
While the colorways and connection to the important brand initiative of sustainable action is well done, you can't help but wonder if this was the original plan for releases had the All-Star Game gone forward as planned in Indianapolis. It also makes you wonder where the other brands are for this year's All-Star sneakers, because we have yet to see much of anything from any of Nike's competitors. Regardless, the sneaker community will likely be tuned in on March 7th as the NBA packs the Skills Challenge, 3-Point Contest, Slam Dunk Contest, and All-Star Game into one evening.
CHECK OUT OUR MOST POPULAR CONTENT
Money Back Guarantee
If Sneaker Throne isn't for you, we'll gladly refund your product within 30 days of purchase, minus return shipping.
Fast Shipping
Orders typically ship within 2 business days. We use FedEx & UPS Home Delivery so you can track your order to the door.
Safe & Secure
We love our customers and are here to answer any questions or concerns you may have. All transactions obviously safe & secure.