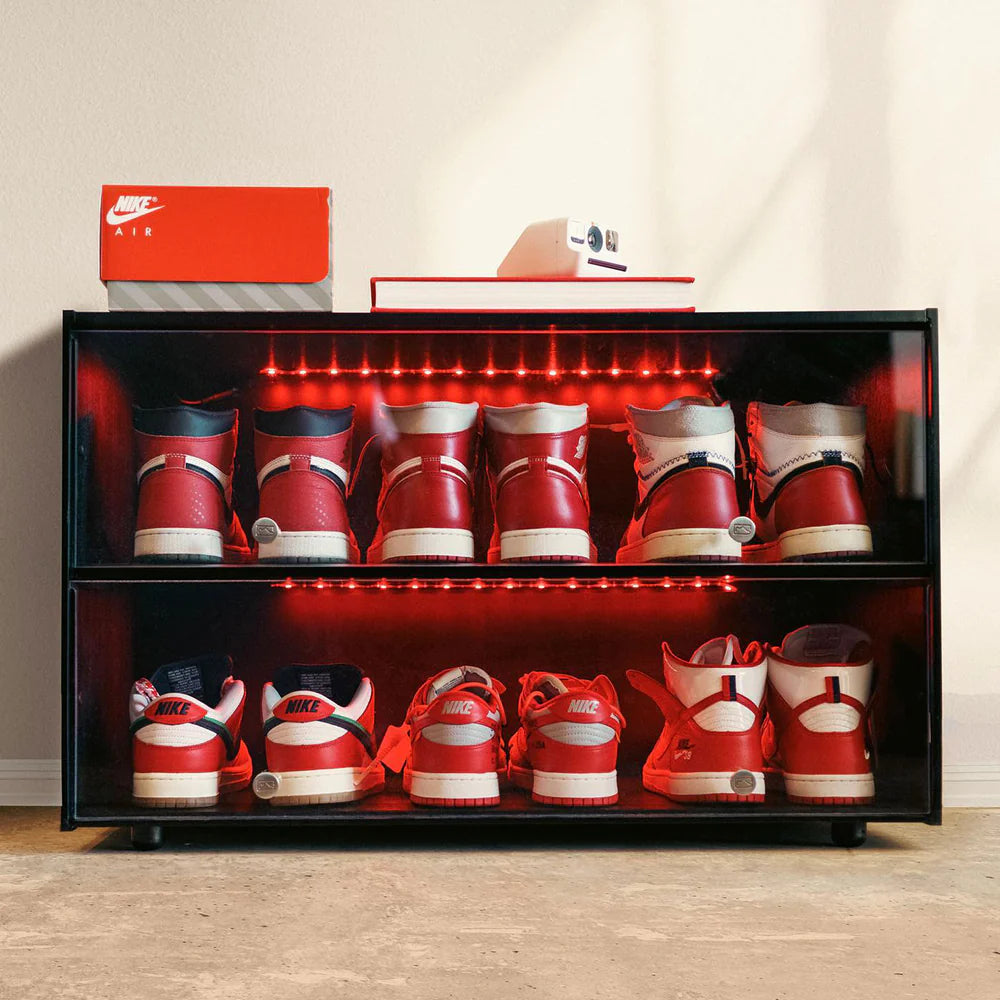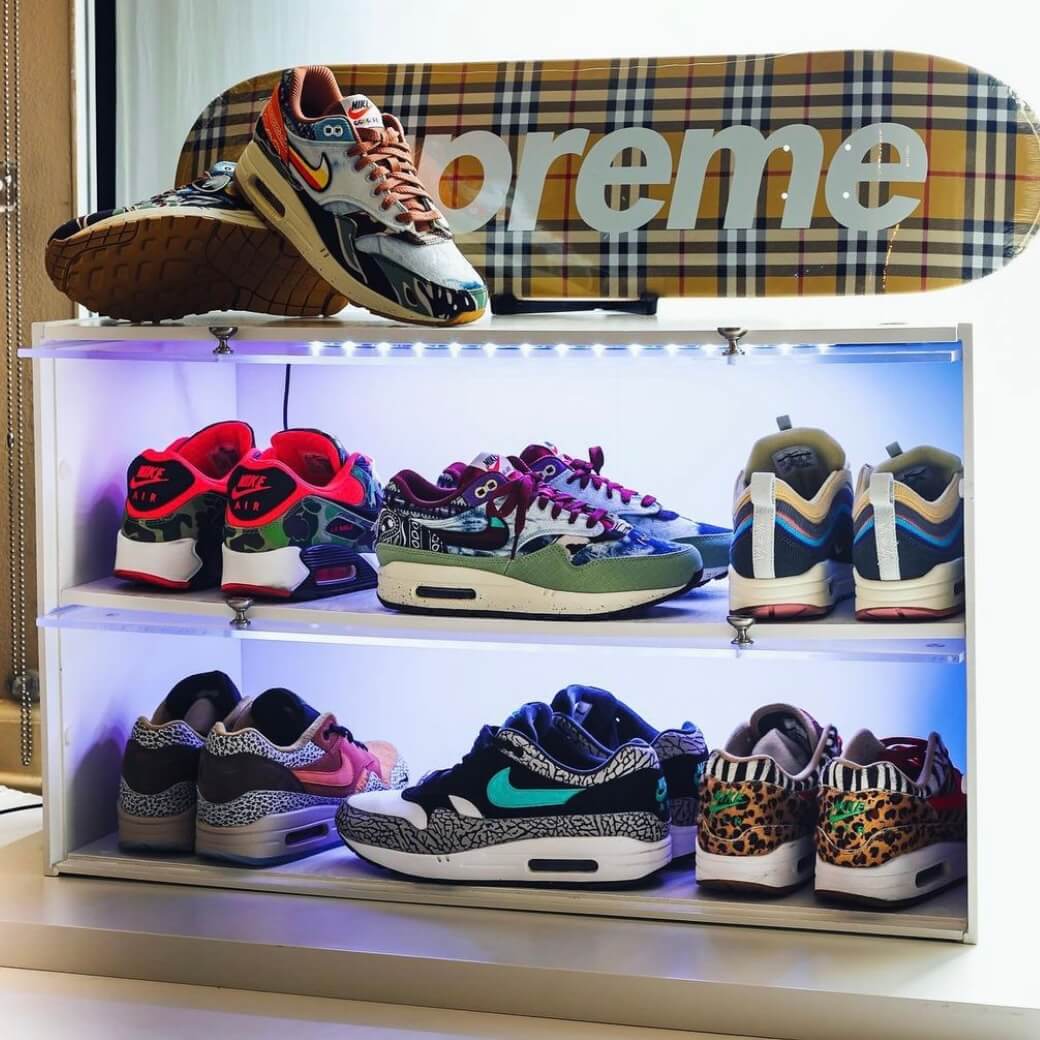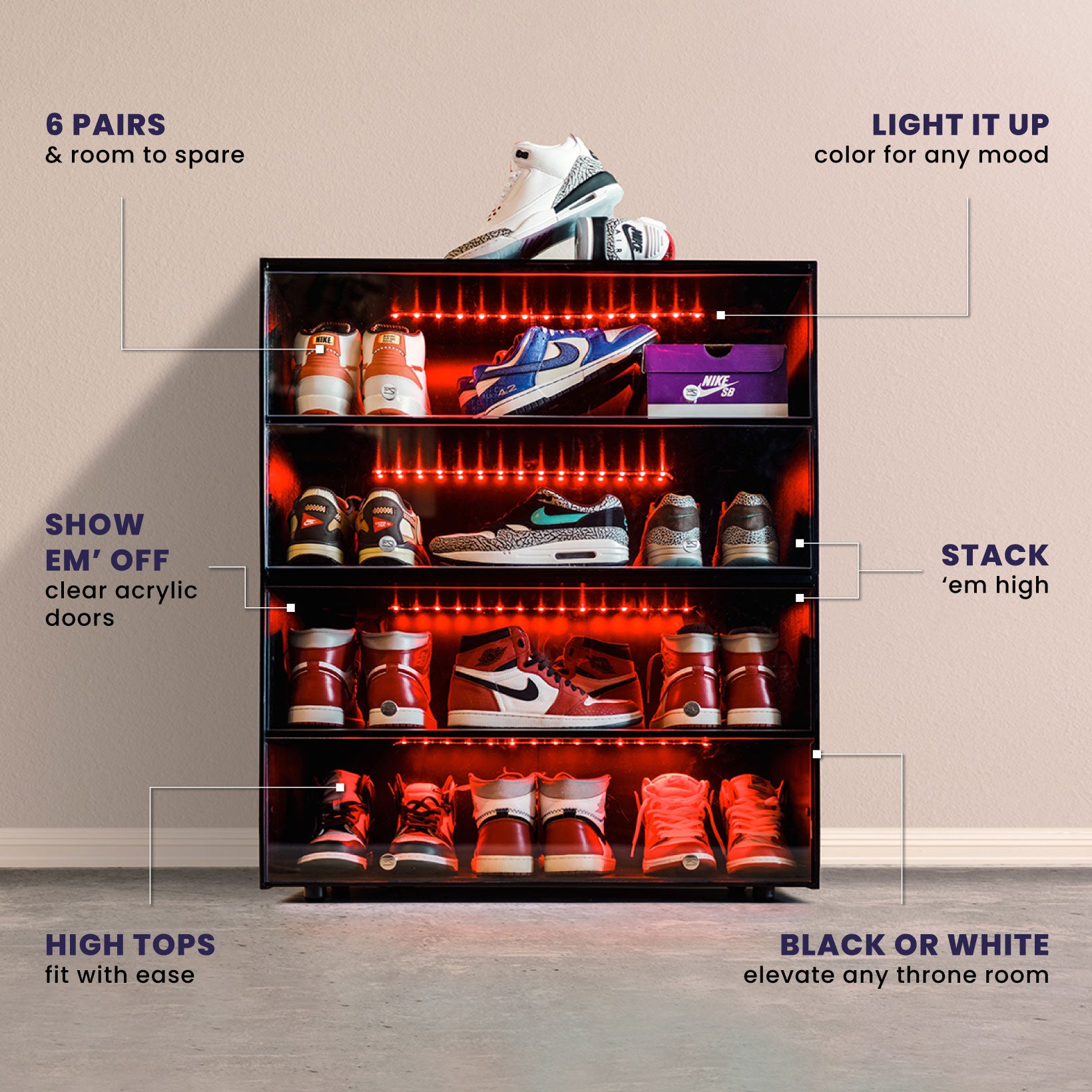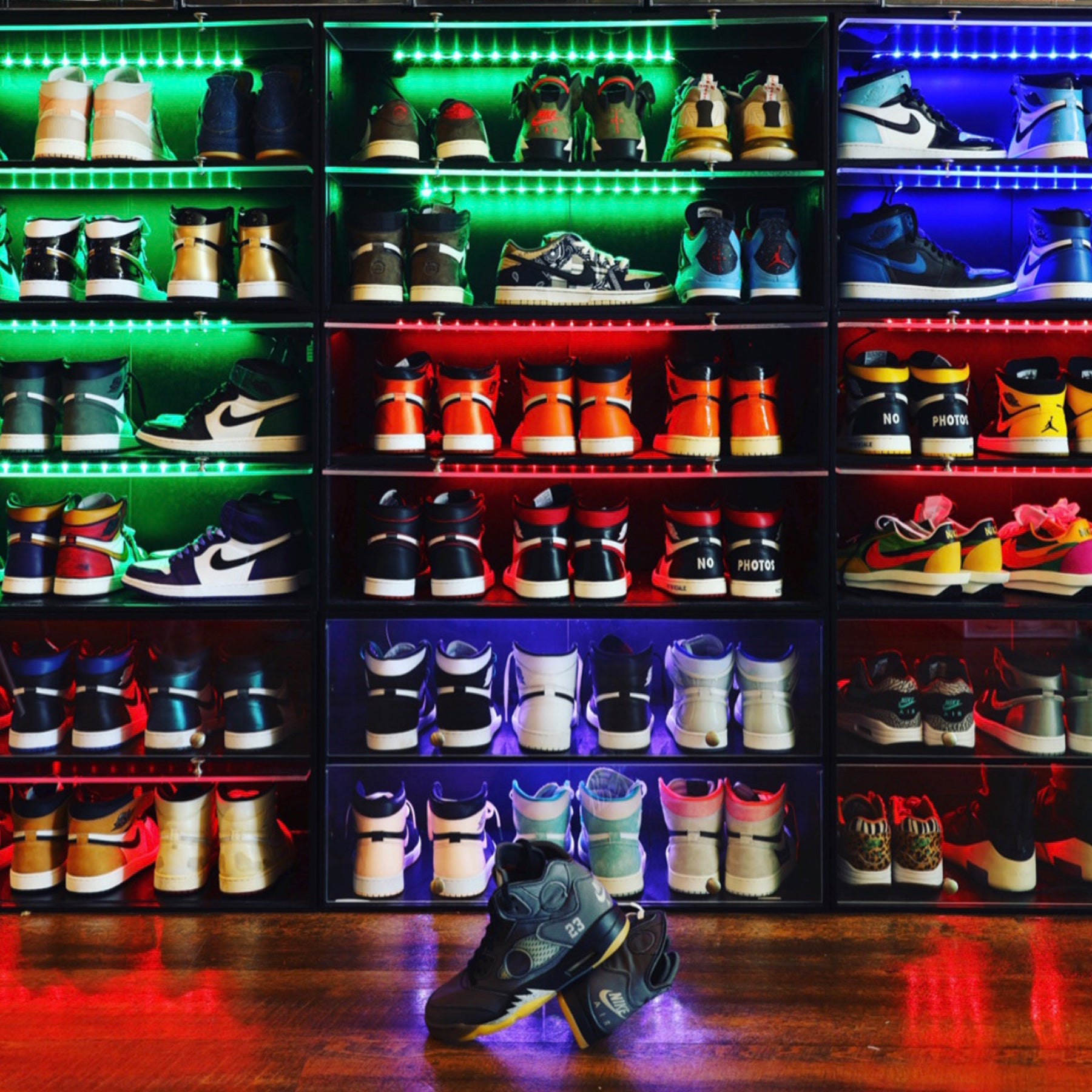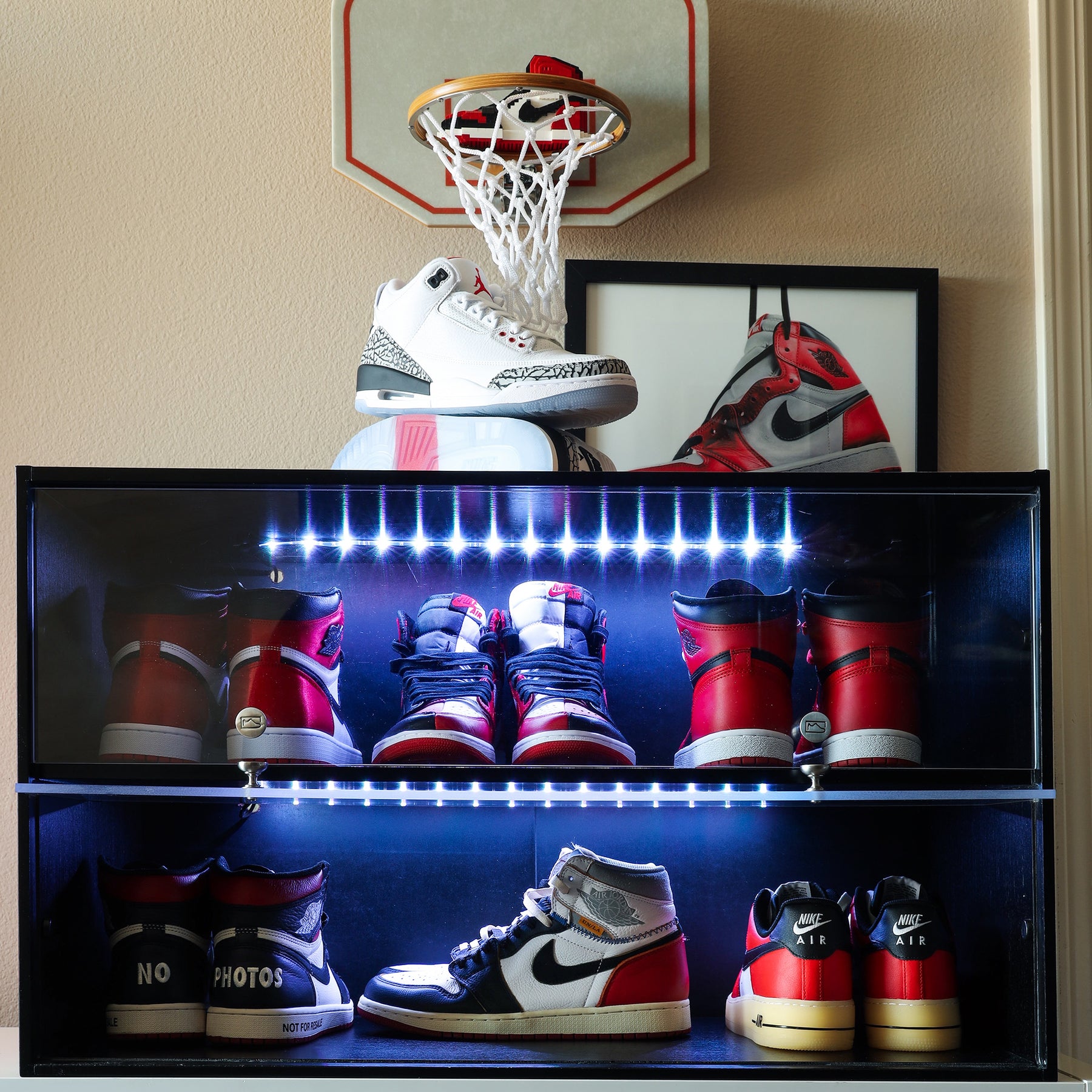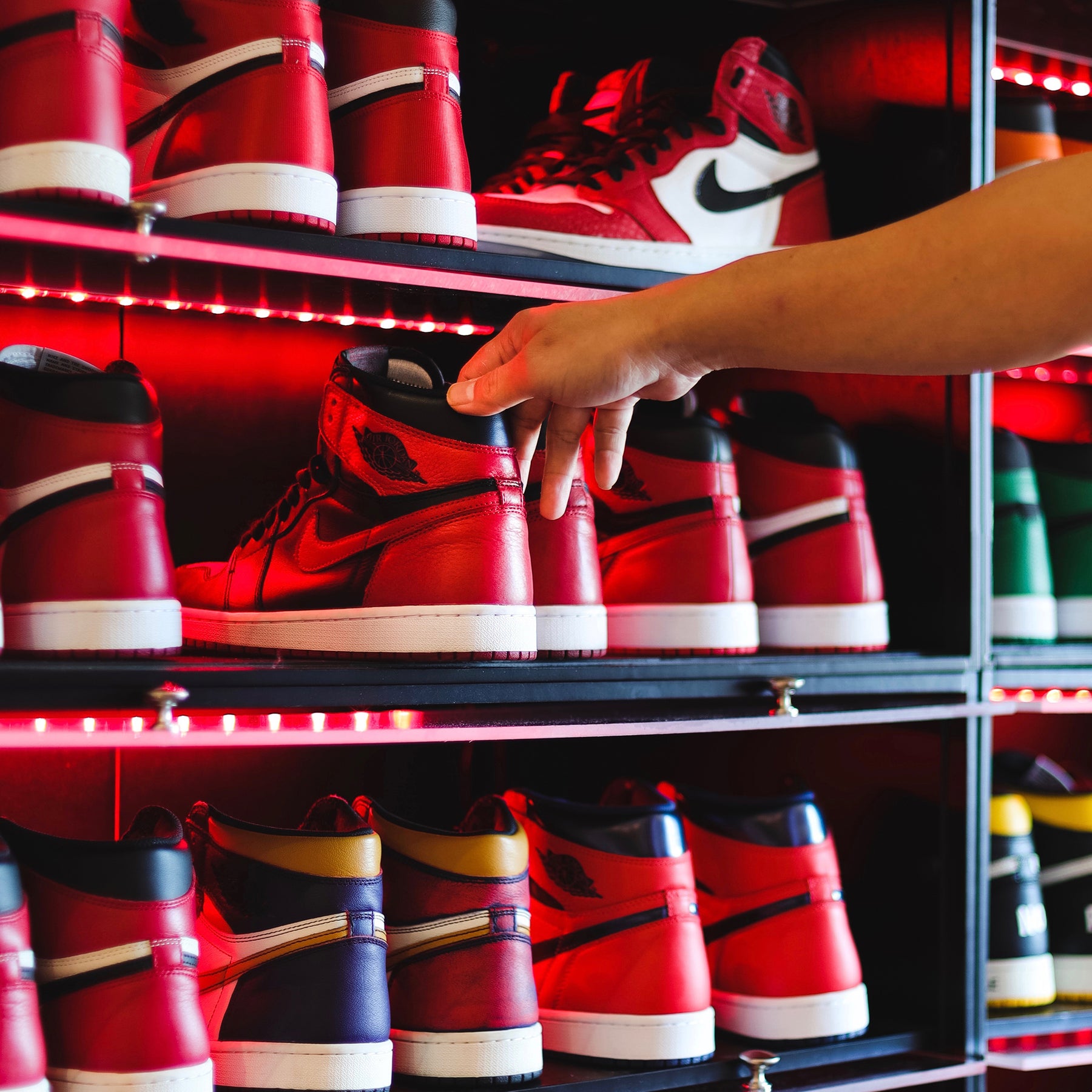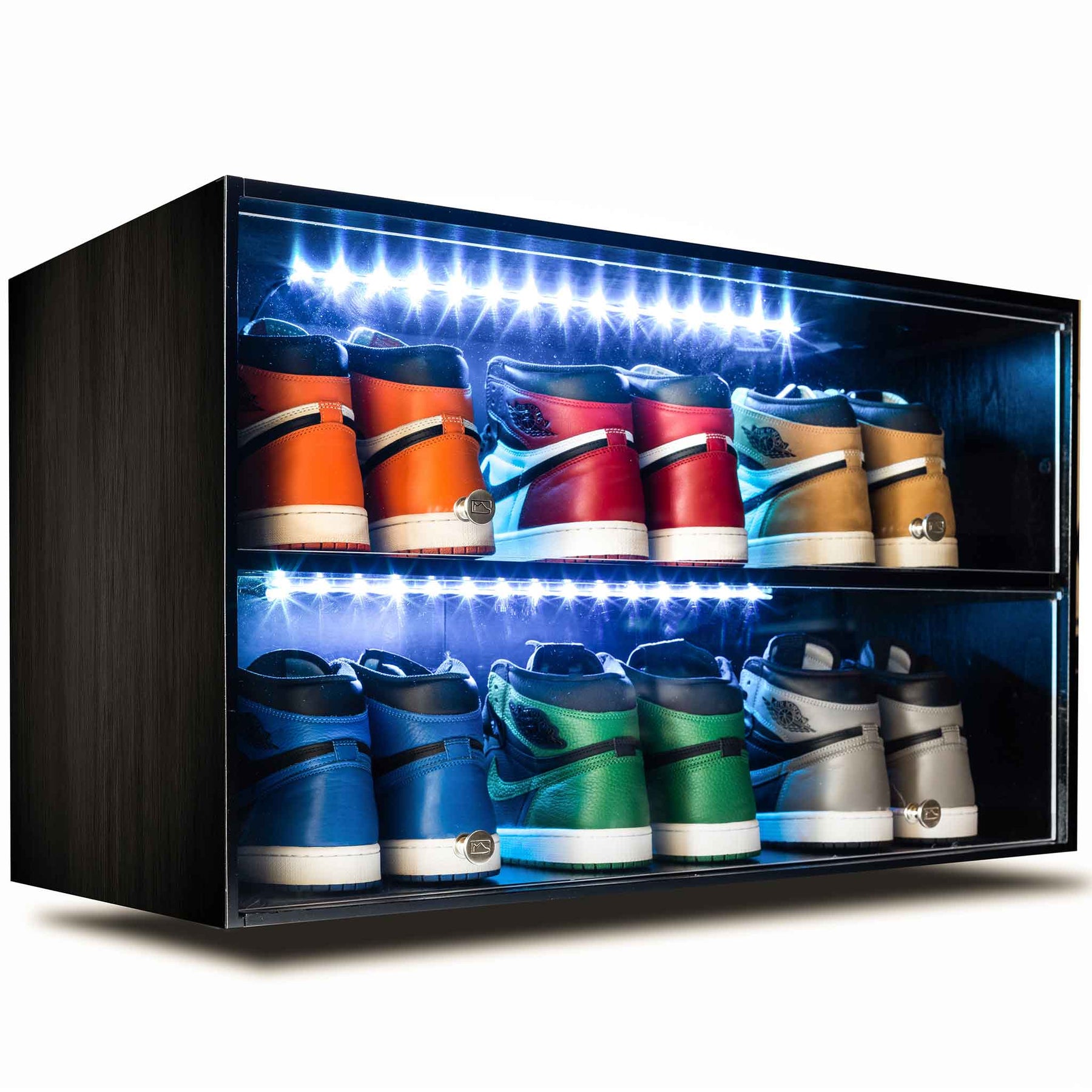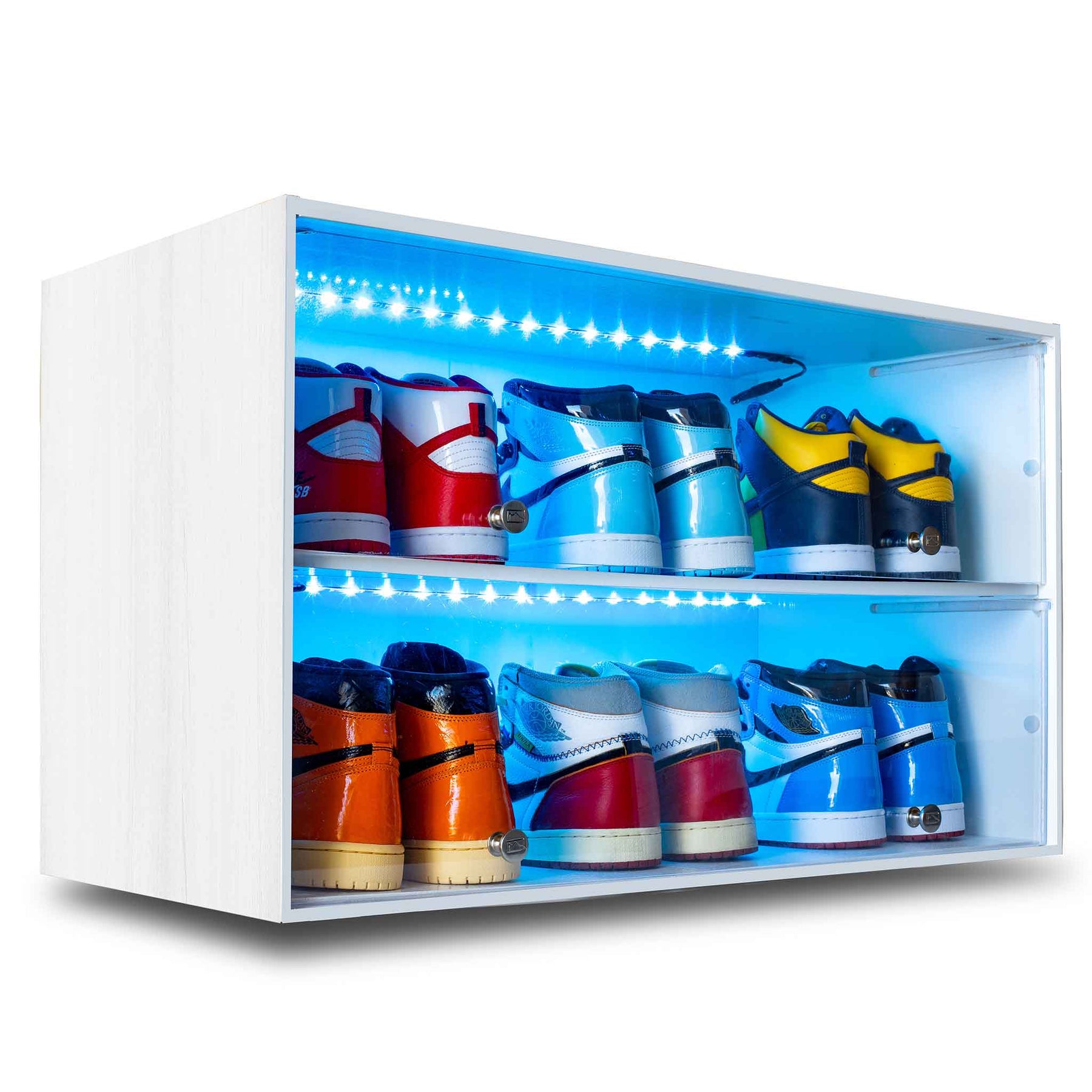 Sneaker Throne
👟 💎 Six-Pair Storage: Showcase your pride.
🛡️🎩 Acrylic Protection: Crystal clear doors, dust-free ambiance.
🧱 💪 Stackable Design: Expand storage with ease.
💡 🚥 LED Ambiance: Remote-controlled color-changing brilliance.
⏱️ 🙌 Easy access: keeps you organized
Give your favorite sneakers the showcase they deserve. It's time to take pride in your kicks by storing them in a case that is more like a piece of furniture than a plastic or cardboard box. In no time at all, your collection of favorite kicks will look museum worthy leaving your friends drooling with jealousy.  Oh, did we mention the lights?
Expertly crafted of wood
Precision cut 1/4" thick acrylic doors
Fits most high-top sneakers
Stores up to 6 pairs of sneakers up to size 15
Sliding doors protect from dust & dirt
Remote control LED color changing light strip with AC adapter
Wall mounting straps
Stack up to four units for additional storage
Outside Dimensions: 31" wide x 19" tall x 15" deep
Inside Dimensions: 30.3" wide x 7.8" tall x 14" deep
Weight: Approx. 30lbs w/o shoes inside
Orders ship within 2-3 business days
3-6 day shipping time via Fed Ex & UPS Ground 
Ships from California or New Jersey based on inventory availability
What size sneakers do your cases hold?
Sneaker Throne can fit 6 pairs of high tops up to size 15.
How many units can you stack on top of each other
Sneaker Throne can stack up to 4 units. When stacking, we highly recommend you use the wall straps provided for added safety.
Do lights come with the cases?
Sneaker Throne includes a LED light kit.
Do your products require assembly?
Sneaker Throne is easy to assemble and the only tool that is needed is a screwdriver. Similar to buying an item at IKEA, first one might take you 30 minutes to assemble, but the second one will take you 10 minutes.
What is your return policy?
All of our products come with a 30 Day Moneyback Satisfaction Guarantee. If you are not happy, we are not happy.
Where is your company located?
Our headquarters are in Santa Monica, CA and we ship our products from warehouses located in CA and NJ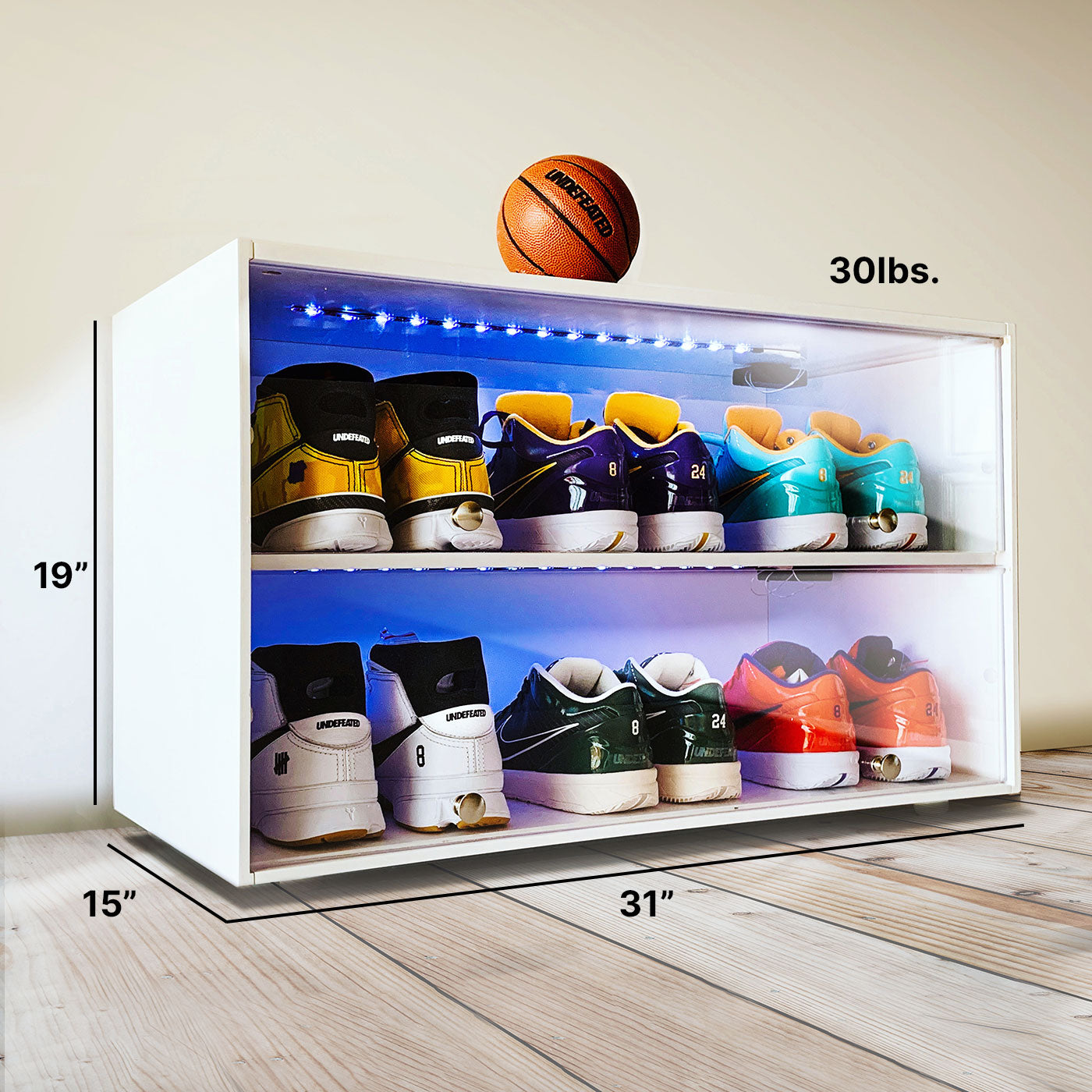 Perfect Size
A new home for all your grails
Perfectly sized to store outside or inside any standard closet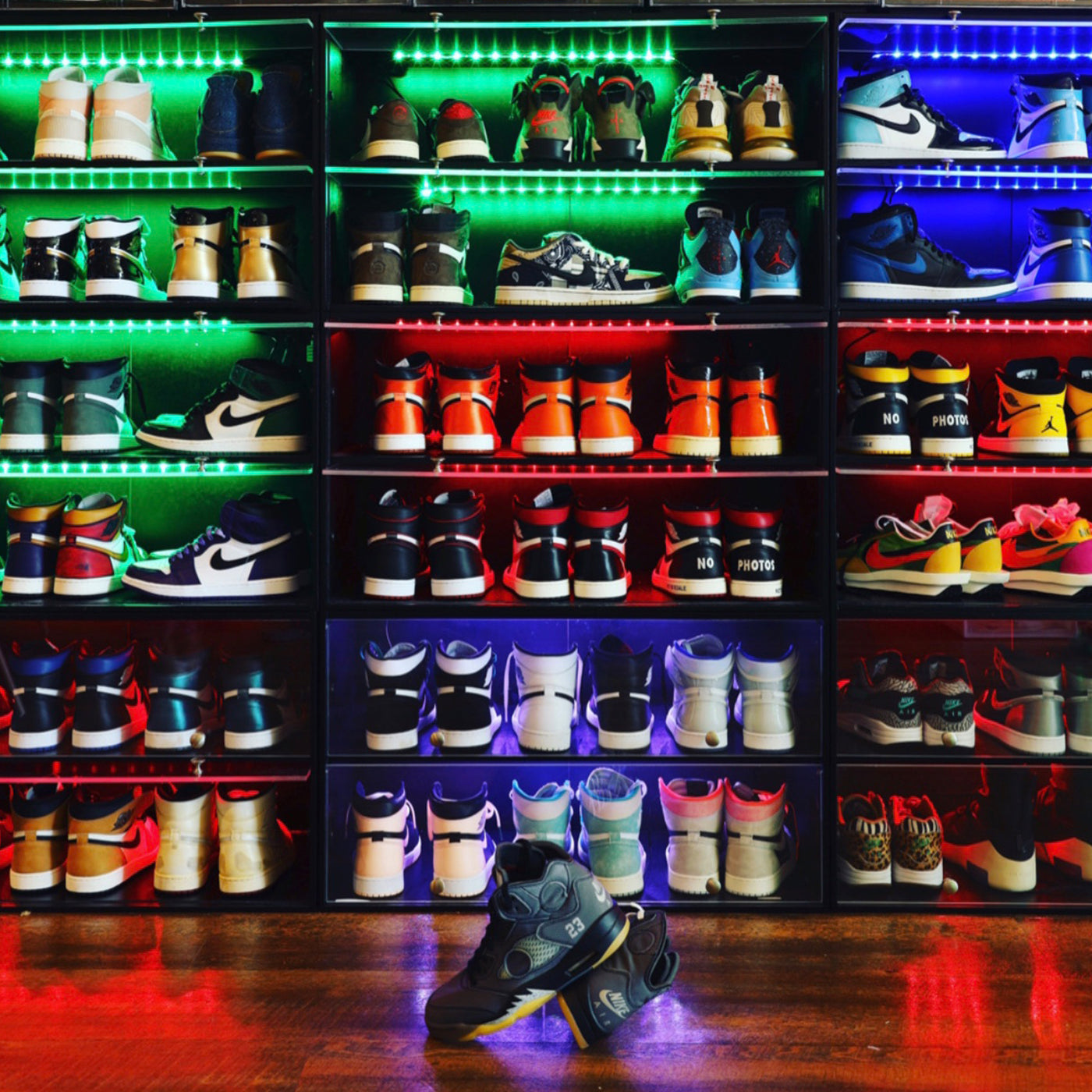 Stack Em'
Hightop Highrise
Stack multiple units for additional space and storage customization.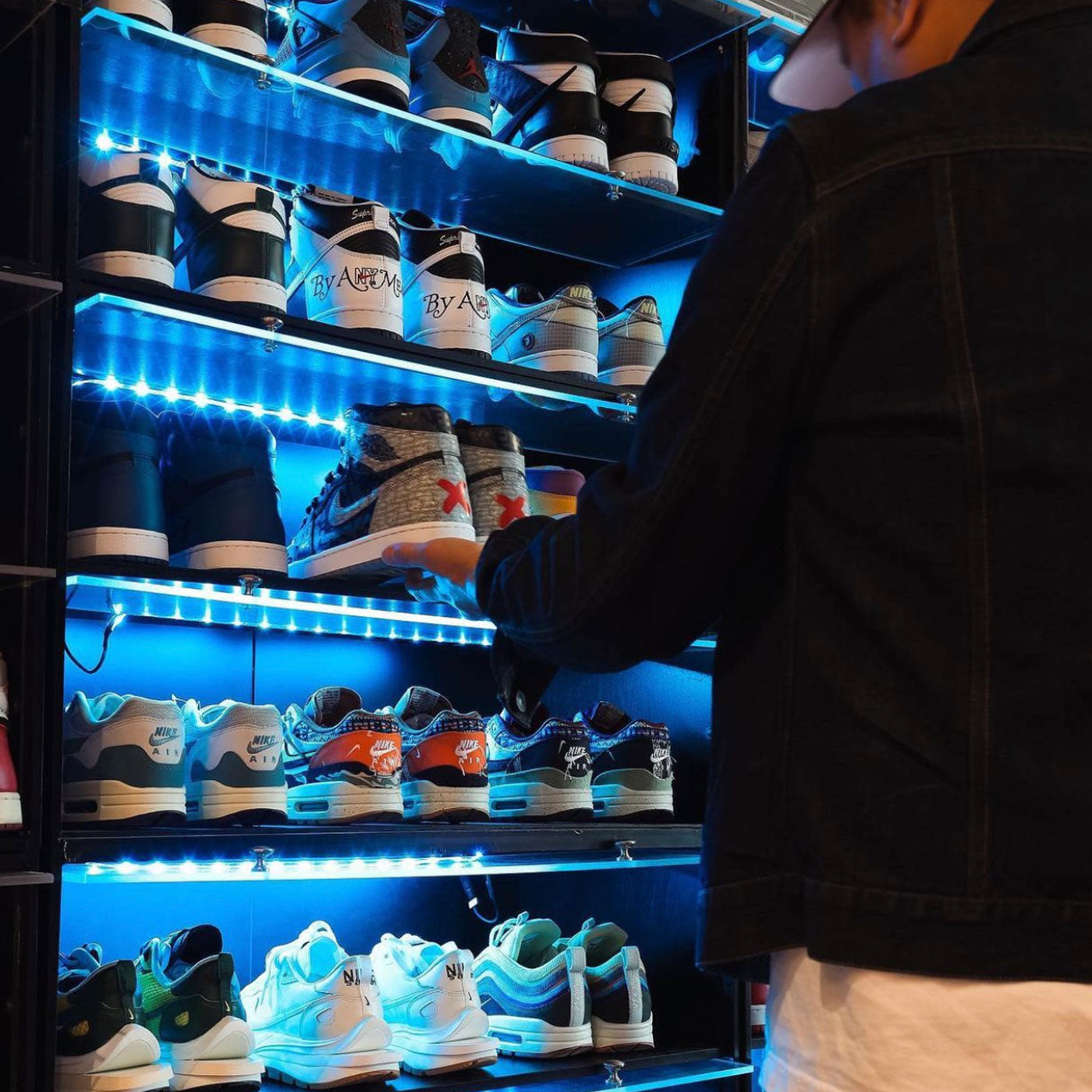 Light 'Em
Your Kicks Will Shine Bright Day or Night
AC adapter, multicolor LED light strips with remote control.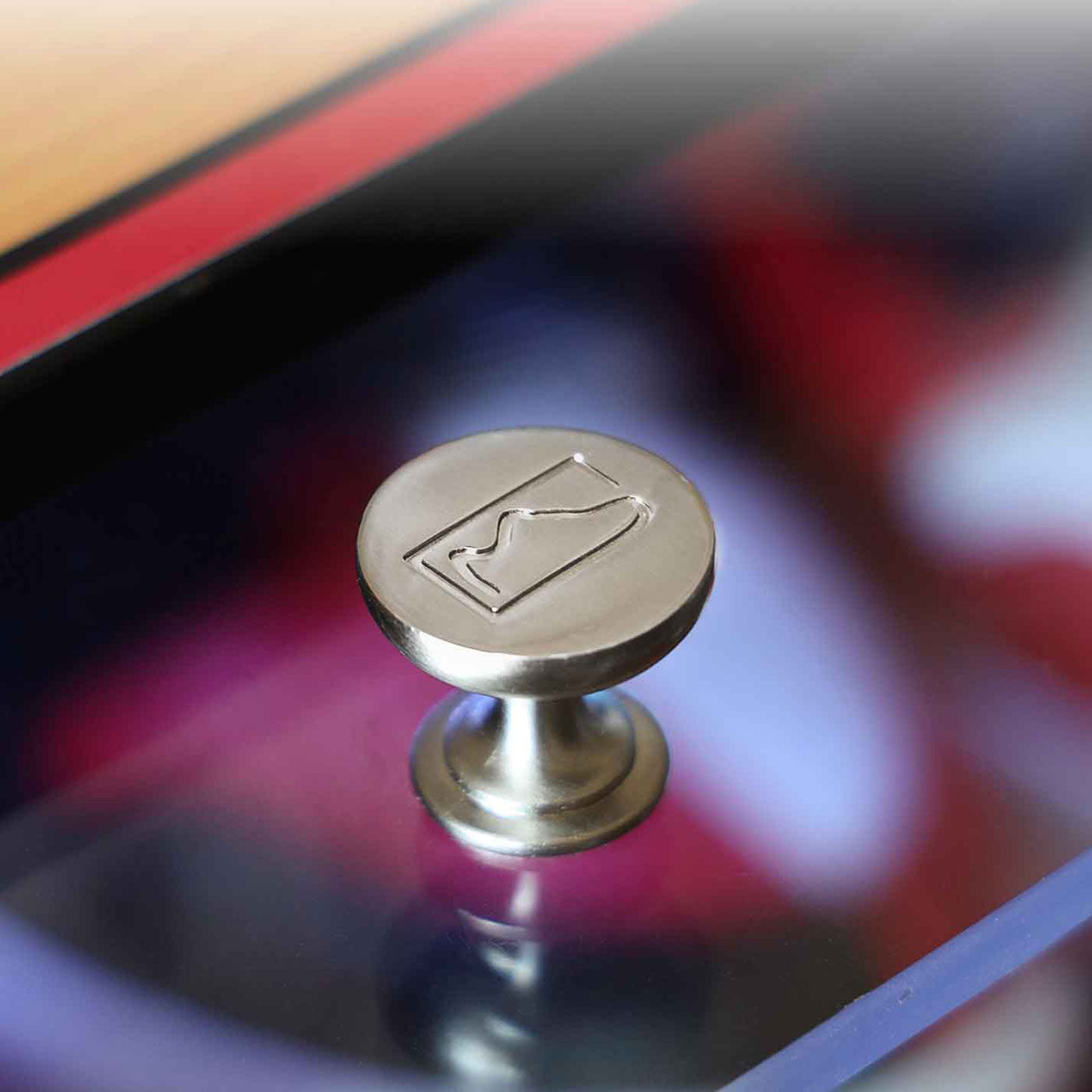 Top Quality
Handle With Care
Brushed silver handles, acrylic lift and slide doors, and wall mounting strap.
Customer Reviews
Write a Review
Ask a Question
02/09/2023
Angel Z.

United States
Sneaker throne
Great product! Can't wait to buy another one
02/09/2023
John A.

United States
Excellent rack.
It is the perfect rack ,especially with the light stripping.
02/09/2023
Tyler M.

United States
Sneaker throne awesomeness
Customer service is beyond stellar cant express how happy I was.
02/09/2023
oliver l.

United States
Sneaker throne
My son loves the product and when put together it looks great. However, It was very difficult to put together and adhesive on led light not very strong. I had to by double sided tape to hold led lights. once done it does look great and he love it
02/09/2023
Sayat C.

United States
LOVE THIS PRODUCT!!
The white ones are out of stock but I cant wait till they are available. Purchased 6 of these and definitely would buy more!
02/05/2023
Edward J.

United States
Sneaker throne box
Awesome product- bought one for each of my kids for Xmas and they were the hit of the day for both of them
02/04/2023
Mary E.

United States
Great experience
Last minute Christmas order that came on time as promised. My son loves his light up sneaker display cabinet. Excellent product and experience.
02/04/2023
Jaime S.

United States
Luxury Light Up Shoe Display
Luxury Light Up Display for my Jordan's, AI's, Kobes, Lebrons, KD, etc. shoe display. I purchased 3 black Sneaker Thrones. Putting together was semi-hard, but after installation was all done with the led lights, it was still worth the purchase. I'm thrilled on the way they turned out & how they have my shoes looking nice. As my sneaker collection increase, I will buy more because they easily stack on one another. I definitely recommend this product to nicely keep & display your shoes.
02/04/2023
Rose A.

United States
It's nice looking
It's nice to have the shoes protected from dust, and in one place. Looks great. I wish the materials were a little more sturdy. We have one corner messed up from being shipped and one messed up from normal wear and tear of putting it together. Not a huge deal but I do wonder how long they're going to last. For now though, we're very happy. They do their job of cleaning things up (ours were on the wall and I much prefer the in lighted shelving systems) and looking great on display. The lights are really cool and I appreciate that one remote can work all units so they work in sync.
02/04/2023
Jarred A.

United States
Review
Its was a cool gift to give
01/17/2023
Alicia S.

United States
Sneaker throne
Excellent overall look and experience
01/15/2023
Thressa L.

United States
Great Gift
Purchased for my 16yr old son. Part selfish…to keep his sneakers in one place ✅. He loves it! It's durable and easy to use! Pretty cool looking and he loves the remote feature for the lights! I put it together which is kinda miraculous..not my strong suit normally..so if I can do it pretty quickly..anyone can! Sneaker Throne, definitely worth it! As my son's collection grows, I'd buy another section. Happy NY Mom.
01/14/2023
Adam P.

United States
Nice
Nice to display my shoes. Gotta buy more now!
01/14/2023
Jade B.

United States
Led light controller
Led light controller doesn't work
01/13/2023
Hope A.

United States
My boyfriend loves it
The shipping was great and got here just before Christmas I was able to do this in payments ! And it came out awesome great for people who collect hats and shoes it's just amazing !!!
01/13/2023
Derek P.

United States