A Throne-Worthy Kiss Of Death Is Making A Comeback
Recently famed entertainer and one of the most obsessive sneakerheads on the planet, DJ Khaled, was seen with a retro version of a very special shoe. The CLOT x Nike Air Max 1 "Kiss Of Death" originally released in 2006 and is a shoe that most will never see in person. However, Just Fresh Kicks is reporting these retros will release later this year, so you may have a chance.
CLOT is one of the most successful sneaker boutiques in all of Asia, and was founded in 2003 by Edison Chen and Kevin Poon with the opening of their first boutique in Hong Kong. During that time, the internet wasn't as free-flowing with information as it is today, and despite the "Kiss Of Death" AM1 being one of the earliest collaborations on an Air Max silhouette, you had to be in the know to be aware of its release. Furthermore, you had to have a global connect to get your hands on a pair and even that might take a significant amount of luck and money.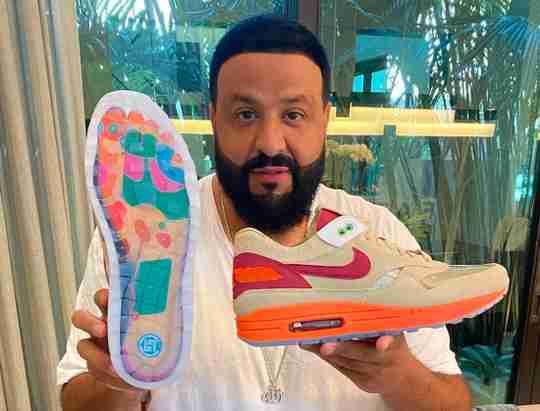 The Kiss Of Death concept was also the very first Air Max to be released with a partially transparent upper. The clear shoe idea had been done by other Nike collaborators, like ESPO, and on the Invisible Woman Air Force 1, but no other attempts ever made it into production. As they have for all of their collaborations along the way to growing into a globally-admired brand, CLOT took the storytelling aspect further into the roots of their founders with the Kiss Of Death. This Air Max 1 combines Nike's "NL" aka No Liner Air Max 1, with a creative mix of materials like suede, snakeskin, and ostrich skin, and tells a story of Chinese medicine and the spiritual energy known as "chi". The outsole displays the skeleton foot and the insole defines the foot's pressure points in a way that makes it equally as worthy of hanging on the wall at your doctor's office as it is worn on your feet. To say this collab set the tone for CLOT would be an understatement, as the entire brand's narrative sticks closely to the "East Meets West" concept of this Air Max 1 still to this day.
The "Kiss Of Death" is set to return this year in its new form and although there isn't a set release date, you can bet that CLOT and Nike will be going all out to celebrate its return. As for the rest of us, we wait patiently, because whether it's the original from May of 2006, or the new release, the CLOT x Nike Air Max 1 will always be a throne-worthy pair of kicks.
Photos Below Courtesy of Sneaker News
Money Back Guarantee
If Sneaker Throne isn't for you, we'll gladly refund your product within 30 days of purchase, minus return shipping.
Fast Shipping
Orders typically ship within 2 business days. We use FedEx & UPS Home Delivery so you can track your order to the door.
Safe & Secure
We love our customers and are here to answer any questions or concerns you may have. All transactions obviously safe & secure.