DJ Sneakerhead Turned His Hobby Into His Hustle

We're back with our latest Throne Picks feature and this week's sneakerhead spotlight features someone I've known and admired for quite some time. Darrin Willingham Jr, aka DJ,  goes by the name DJ Sneakerhead on social media. 
DJ was born in 1991, which is why you'll see his favorite sneaker below also comes from that year. 
As a sneakerhead, DJ started the process of turning his hobby into his hustle back when he was in college, selling sneakers on the side of his time as a college athlete. What started as a way to provide other sneakerheads (and of course plenty for himself) access to shoes that were often sold out, quickly spiraled into a business selling rare player exclusive sneakers that would sell for hundreds or even thousands of dollars. 
Fast forward a few years and now you'll find DJ dropping early looks at shoes like the Nike Kobe 6 "Grinch" returning next year and investing in real estate. Though, I'm not sure if it's the home flipping that pays the sneaker bills, or the sneaker content that affords him the real estate. You'll have to give him a follow to find out for yourself.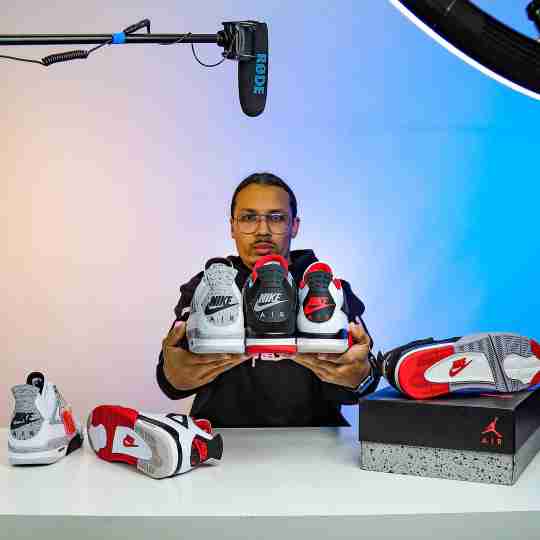 Name: Darrin Willingham Jr "DJ"
Location: Portland, Oregon
Instagram: @dj_sneakerhead
YouTube: DNA Show
Website: FlightSkoolShoes.com
Daily Grind: Real Estate Investor/Content Creator
Your Sneaker Story:
"Growing up in Portland the home of Nike and adidas it's just kinda been engrained in my DNA. My parents made sure I had all the Jordan's that came out growing up as we a kid. They stayed at the employee store coppin kicks. Back in those times it was all originals too. If it weren't for my parents I wouldn't even be a sneakerhead. "
Favorite Collab: Travis Scott x Air Jordan 4 "Friends & Family"
Favorite OG Colorway: Air Jordan 6 "Infrared"
Favorite PE (Player Exclusive) Colorway: Ray Allen Air Jordan 12 "Sonics" (DJ's first PE)
The One That Got Away: 3M LOS Air Jordan 1
"I had a chance to get it at an auction for $1200 and stopped bidding at $1000. That same shoe is worth $10k today."
DJ's Sneaker Throne Picks:
Air Jordan 6 "Infrared"
Air Jordan 1 "Bred"
Air Jordan 11 "Bred"
Air Jordan 3 "Black Cement"
DJ's Sneaker Throne Setup:
CHECK OUT OUR MOST POPULAR CONTENT
Money Back Guarantee
If Sneaker Throne isn't for you, we'll gladly refund your product within 30 days of purchase, minus return shipping.
Fast Shipping
Orders typically ship within 2 business days. We use FedEx & UPS Home Delivery so you can track your order to the door.
Safe & Secure
We love our customers and are here to answer any questions or concerns you may have. All transactions obviously safe & secure.