How To Properly Display Your Sneakers

You might think there is a right way or a wrong way to "display your sole," and well, as much as we want to encourage you to do you, we can offer some tips to help you properly display your sneakers.
Before we get into the specifics of displaying your sneakers, if you haven't checked out our 7 Shoe Storage Tips For Sneaker Collectors, there is some good info in that article about prepping your shoes for their new home in your Sneaker Throne.
In this blog post, we're going to focus on making the most of your sneaker's design when it comes to placement and lighting and as always, if you have any tips and tricks that have worked for you, feel free to share them with us on our Instagram.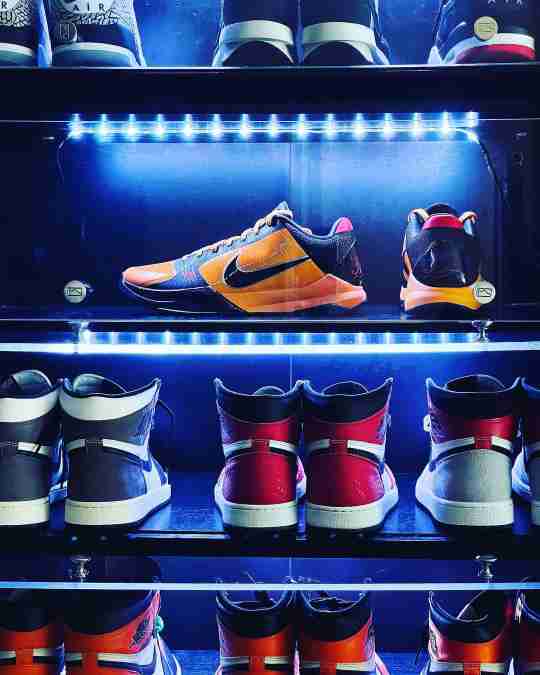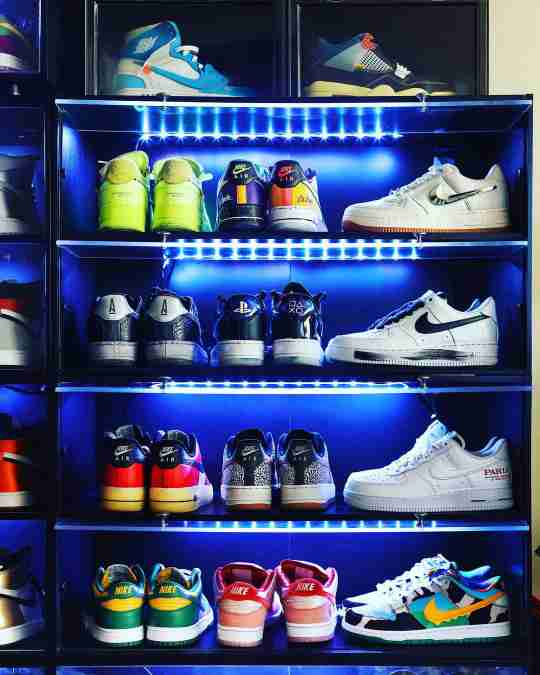 If you want to highlight one specific sneaker model a little more than the rest, switch up the direction of the placement in your Sneaker Throne. In the above example, the "Bruce Lee" Nike Kobe 5 sits on a shelf of its own with one shoe turned sideways with the lateral side (the outside, which typically has a cleaner aesthetic) facing out to help accentuate the design. Not only are the Kobes turned to capture your eye's focus, but the Jordans below have been faced inward to only display the heels of the shoes. This keeps them from being a distraction from the Kobes.
In the picture to the left, you can see a great example on how to highlight a collection of the same model. Whether it's shelf by shelf, or case by case, turning just one shoe to have the lateral side out allows you to shoe off the silhouette while at the same time displaying the other colorways in your collection next to it.
PRO TIP: Swap the shoe that is rotated sideways for unique Instagram sneaker photos of each of your favorite colorways.
Included lighting might not be a feature of the Drop Side Storage Boxes but this picture uses natural light from a nearby window to really show off the sneakers inside. For photos, opening one of the cases adds some extra depth to the photo to draw your eyes into the center of the Drop Side. 
Another great way to elevate your sneaker display can be seen with the Sony Playstation 5 that is used as an accessory for the photo. Sure, it's more than a subtle flex considering how difficult they've been to purchase, but the connection to the Playstation x Nike Air Force 1 is the real win in this photo.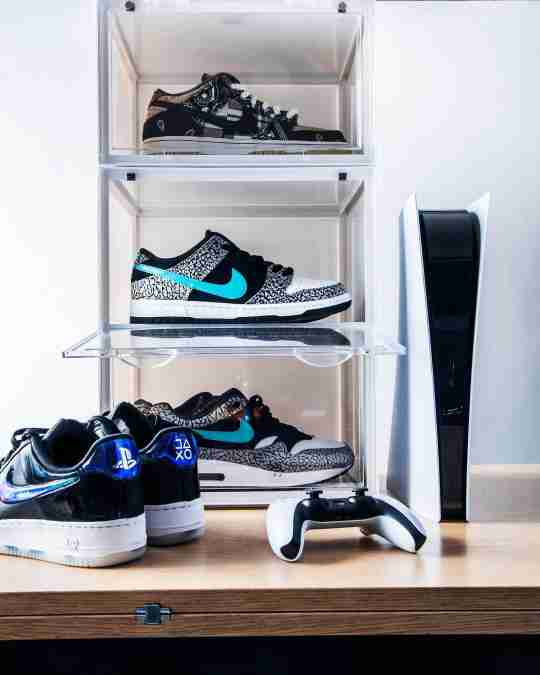 CHECK OUT OUR MOST POPULAR CONTENT
Money Back Guarantee
If Sneaker Throne isn't for you, we'll gladly refund your product within 30 days of purchase, minus return shipping.
Fast Shipping
Orders typically ship within 2 business days. We use FedEx & UPS Home Delivery so you can track your order to the door.
Safe & Secure
We love our customers and are here to answer any questions or concerns you may have. All transactions obviously safe & secure.