Virgil Abloh Is Releasing 20 New Off-White Nike Dunks

We recently talked about the success of Virgil Abloh and his Off-White collaborations but it seems that Virgil and Nike are about to take things to a whole new level of hype. In case you don't know, Virgil's original collaborations with Nike were called "The Ten" and included 10 different sneaker releases. With the success of the original releases, Virgil and Nike kept pouring fuel on the fire with release after release, well beyond the original ten. 
Now, according to Py_Rates, Virgil Abloh and Nike are teaming up for "The Twenty," a series of new colorways applied to the popular Off-White x Nike Dunks that released in 2019. While collabs are a dime a dozen these days, seeing a list of twenty colorways of one model makes you wonder if keeping up the hype is possible or if this could send the trend in a different direction.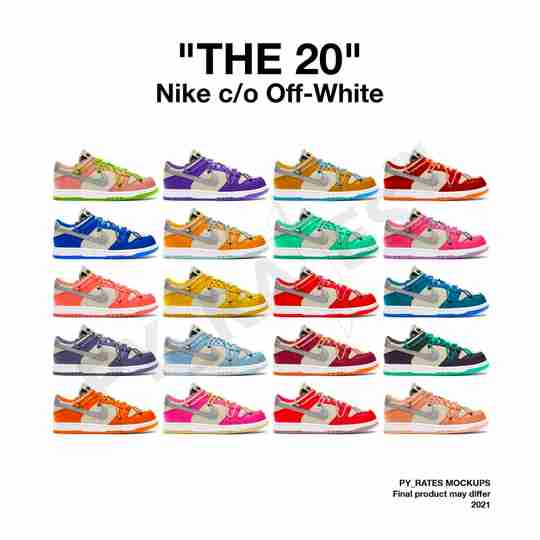 Seeing a collaborator release countless colorways isn't something new. We've seen Pharrell and Kanye do it repeatedly with their adidas collaborations. The thing that makes this a little more unusual is that it's being done with Nike. Nike isn't typically a brand that just hands the keys over for such big projects. Remember, they only allowed Kanye, a proven success, just a handful of colorways of his Air Yeezy line. Collaborators like Hiroshi Fujiwara of fragment design has been working with The Swoosh almost exclusively for decades, and even his capsule collections, which are designed in much safer color palettes, are limited to just handful of colorways. 
While under normal circumstances, this big of a partnership seems out of character for Nike, the timing couldn't be better to test the limits of hype. The Nike Dunk has seen a resurgence in the past couple of years like no other sneaker ever has. Over that same time period, Virgil Abloh has somehow kept his name and his Off-White brand at the top of the "hot list" for both resellers and trendsetters alike. Releasing TWENTY colorways of the Off-White x Nike Dunk will rope in the collectors looking to complete the set as well.
While we have no official release date, the retail price is rumored to be $180 and The Twenty is set to roll out later this year. Are you ready to spend $3600 on this set of Off-Whites or will this be the end of the hype for the Nike Dunk?
CHECK OUT MORE OF OUR POPULAR CONTENT
Money Back Guarantee
If Sneaker Throne isn't for you, we'll gladly refund your product within 30 days of purchase, minus return shipping.
Fast Shipping
Orders typically ship within 2 business days. We use FedEx & UPS Home Delivery so you can track your order to the door.
Safe & Secure
We love our customers and are here to answer any questions or concerns you may have. All transactions obviously safe & secure.